Balletboyz The Talent

Sadler's Wells and touring
(2011)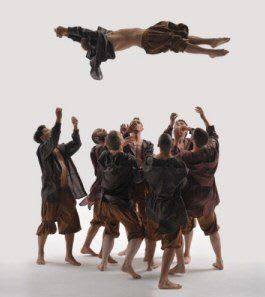 The audience friendly Ballet Boyz, aka George Piper Dances, aka former Royal Ballet dancers Michael Nunn and William Trevitt, seem to be hanging up their dancing shoes in favour of adding another string to their many strung bow - that of impresarios and nurturers of new talent.
Celebrating ten years as Ballet Boyz and twenty-five years as friends, they have been garnering rave reviews as they tour the UK (since early February) with The Talent, a nine-strong 'boy band' with varying dance backgrounds and experience. Or, in the case of one of them, no formal background in dance at all - a loss to the Royal Marines; a gain for the company.
Hand-picked from open auditions, the boys were chosen not for their looks, body shape, or CVs, but on how they could move, and move they can. Knocked into shape at what looks like a deluxe boot camp, posed and photographed in the raw for homoerotic promo shots, they are young stallions on the cusp of fame according to the interlude video (between the first two numbers), Nunn's and Trevitt's second string to their bow which kick-started their new career in filmmaking.
Renowned for intermingling backstage videos with dance numbers in their dance productions, they were one of the first to demystify the glamour and expose the aches, pains, sweat and gritty reality of what happens behind the scenes, which double as great promotional tapes
Gritty reality is the backcloth for the latest work to join their repertoire - a new piece by Czech choreographer Jarek Cemerek, who 'was chosen from over 160 applicants from around the world'. Not only are Nunn and Trevitt seeking out new dancing blood, but wisely they are also going for new talent in choreography, which is harder to find.
A moody film noir cityscape narrative played out to a heavy ominous urban beat from Ondrej Dedecek, Yoav, and Ismael De Garay, Void closes an evening of male testosterone. Solitary brooding males, Spaghetti Western music, Hofesh Shechter vitality, but no female figure, not even a femme fatale, in this dangerous landscape of Jets and Sharks.
In hooded tracksuits and t-shirts the nine boys prowl and haunt the city at night, the empty stairwells, the asphalt streets lit by passing car headlights. In grimy sports halls under life-draining lamps they face off each other, spar and wrestle for dominance, leap and twist, throw their bodies like weapons at each other - catch me if you can.
Spartan space, Spartan warriors, male challenges and initiation, it's hard to be a man. Put through a fierce workout the young bodies are still up for it. Picked out in pools of light (lighting by Andrew Ellis) they circle, twist, fall and rise. The shadows lengthen. Inspired by Russell Maliphant's martial arts repetitive ebb and flow? Looks like it.
But then the opening number is Maliphant's Torsion, made for the two Boyz in 2002, now reworked as a sextet to Richard English's many-layered melange of samples and electronic music. Torsion in triplicate under Michael Hulls's sculpted lighting - the young boys clones of Nunn and Trevitt's former selves - leaves indelible images on the brain.
Watchful mirror reflections of each other, powerful and sexy, a band of brothers and rivals... Circling flailing arms catching the light, scripting images (not unlike Maliphant's AfterLight). Contact work and trust, a hand under the neck takes the weight as the other falls. Bodies on shoulders, backs as ledges, torsion too. Spinning on knees round and round a circular patch of light - in peacock exhibition.
Stylish stylized give and take, bodies as kinetic forms twisting in and out of a spin, acrobatic fluidity is Maliphant's trademark. The one-year-old middle piece by Paul Roberts, who has choreographed for Paul McCartney, Annie Lennox, Prince, Duffy, and Pixie Lotte, Alpha, is more of the same - Maliphant-lite.
In silky brown Stella McCartney-ish anoraks, plus-fours-length baggy pantaloons and leggings (design by Shelina Somani) the boys kick and leap like frisky colts. When the tops come off, they look like centaurs. Suffused in Andrew Ellis's golden glow toffee-coloured bodies melt and fuse.
To a live album of Keaton Henson's wistful retro Donovan / Paul Simon style songs to acoustic guitar (he gets a chance to sing one alone on stage before the action begins) - the dance becomes a paean to the body, its softness, grace, and strength. Miguel Esteves stands out.
Hats off to Nunn and Trevitt or Trevitt and Nunn for reinventing themselves again. The Arts Council has just increased their funding by 15. 2 percent.
Till 2nd April 2011
Reviewer: Vera Liber