Bang Bang Bang
Stella Feehily
Out of Joint
Royal Court Theatre Upstairs and touring
(2011)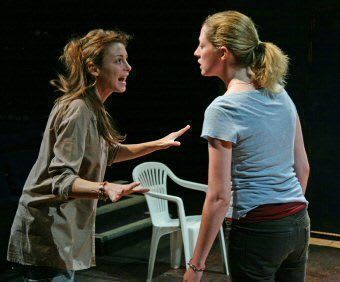 Over the years there have been a number of plays and films viewing the seamy side of African politics through the eyes of individuals, including most memorably on stage Richard Bean's The God Botherers and Lynn Nottage's Ruined.
The latest addition to the canon, Bang Bang Bang, tells the story of Orla Fitzgerald's Sadhbh (pronounced to rhyme with scythe), an experienced human rights worker though she is not yet 30. By following the Irishwoman, it also exposes the atrocities taking place in the Democratic Republic of Congo.
The play opens near the end of the story, as Sadhbh's camp is invaded by a gun-toting hooligan with wickedness in his heart (and trousers).
This chilling motif frames an evening that then recalls happier times as Sadhbh and her former colleague but current partner Stephen meet Julie Dray's Mathilde, a French intern of startling beauty and youthful commitment. This is the celebratory farewell as the two women embark on what should be an exciting adventure.
Sadhbh and Stephen, played by Dan Freedenbugh, seem near the end of their love, due as much to his burgeoning new relationship with global behemoth Shell as a stream of casual lovers. A final chance of happiness may still be available, if one of the other of these stubborn people is willing to compromise their principles.
The core of the two hours is played out in DRC as Sadhbh begins to gather evidence to indict a warlord. The canny giant played by Babou Ceesay invites her over for tea. In doing so, he brings to mind another play of this ilk, Fraser Grace's Breakfast with Mugabe. As with the Zimbabwean leader, this murderous egotist vehemently sets out his innocence, seemingly not even able to convince himself. If there could be any doubt, his testimony is more than balanced by that of a brave but terrified little orphan girl.
This is all strong stuff, if relatively familiar from other treatments. The drama goes slightly awry after the interval with the introduction of both a pregnancy and a gauche English photographer, each of which feels too much like a plot device to be entirely convincing or necessary.
However, once we get back to a repetition of the opening scene and its aftermath, the melodramatic elements are forgotten as Stella Feehily and her director for Out Of Joint, Max Stafford Clark, ensure that visitors go home reminded of what an awful place this world of ours can be.
This production was reviewed by David Chadderton in Bolton and by Robin Strapp in Southampton
Playing until 5 November
Reviewer: Philip Fisher