Barbarians
Barrie Keeffe
Young Vic's Clare Studio
–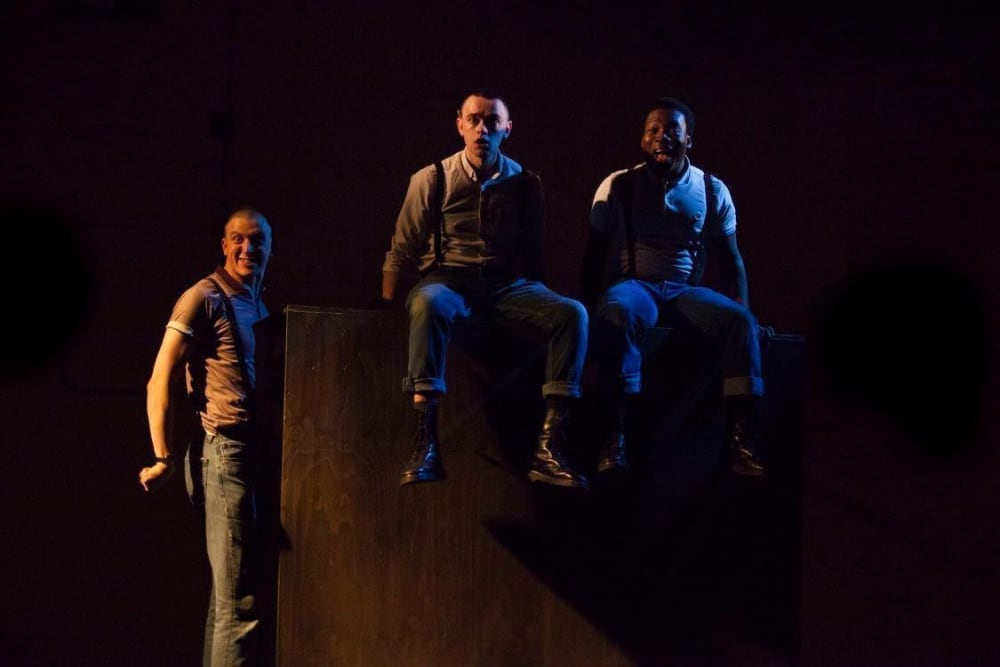 Remarkably, a forgotten forty-year-old play about a trio of dull, disaffected youths has been revived not once but twice in the last couple of months, this version following one created by Tooting Arts Club.
Seeing this version, commemorating Liz Stevenson's receipt of the JMK Award (in memory of James Menzies-Kitchin), the attractions of a hard-hitting political play first seen in 1977 for ambitious directors swiftly become apparent.
The talented young actors whom she has cast are also forced to give a great deal both emotionally and physically throughout the 2½ hours, portraying lads with dead end lives and little ambition in an era when the only growth trade for their like was unemployment.
They strut terrifyingly not only on the thrust stage designed by Fly Davis but also through and behind the three rows of audience members on each side, exuding menace that can feel all too authentic.
The play (actually originally a trilogy) is divided into three scenes taking place some years apart, although it is hard to determine exactly how many.
The opening takes place a year after the youngsters have left school in Lewisham. Each is unemployed and the only chance to make money comes from the criminal cousin of Brian Vernel's Paul.
The characters and pecking order are established early, borderline psychotic Paul able to control Alex Austin playing Jan and Fisayo Akinade as Louis, primarily because of their lack of intellect and drive. Louis suffered further, disadvantaged by his Afro-Caribbean background, in an era when skin colour almost guaranteed to blight one's life and prospects.
Roll on a few years and the scene changes to the environs of Wembley Stadium, where the boys are eager to watch the FA Cup Final between Manchester United and Southampton.
While Louis expounds the benefits of church going or an army career, Paul tries to sell the comradeship of the Doc's Army of Manchester United fans. Symbolically, the boys spend the match sitting outside the ground getting increasingly frustrated until the coup de grace is delivered when unfancied Southampton take the day.
The final scenes, a few more years on take place at the Notting Hill Carnival. By now, Louis is their equivalent to royalty with a halfway decent job and a van, while Jan is a squaddie fearful of his prospects in Belfast, where he is headed the following day. Only bitter Paul is still condemned to factory work, hardly helped by the loss of an eye in an accident.
After their unexpected meeting, the play becomes even darker, presumably as a symbolic comment on a land that the playwright believes is about to become benighted by the premiership of Margaret (eventually Lady) Thatcher.
Under the imaginative directorship of Liz Stevenson, all three performers convincingly depict characters whom it is hard to like, though one can at least feel sympathy for their predicaments.
Whether Barbarians is really a good enough player to reserve a pair of revivals (and there are longueurs) might be open to question but its combination of historical document, comment on society today and warning about our future should attract viewers who are concerned about the current direction in which our politicians are taking the United Kingdom.
Reviewer: Philip Fisher