Barber Shop Chronicles
Inua Ellams
Fuel, National theatre and Leeds Playhouse
Curve Theatre, Leicester
–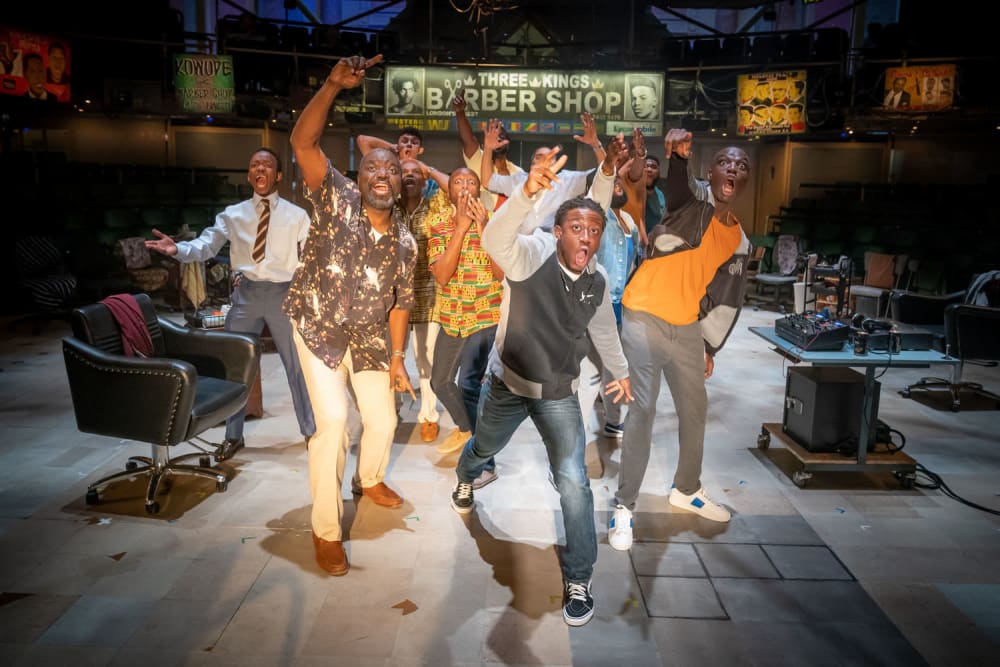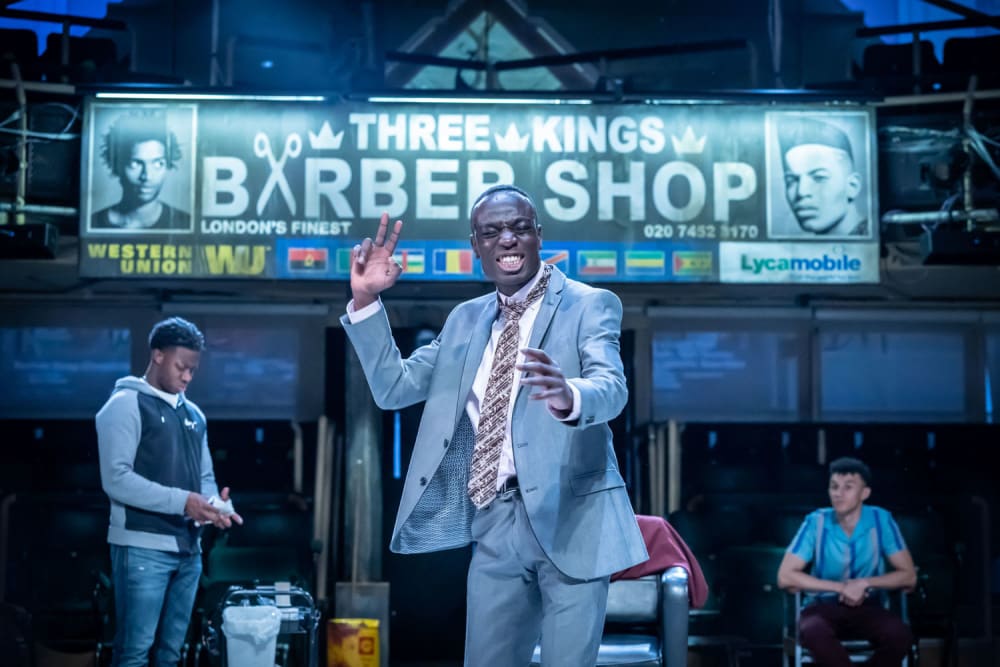 In one of the most enjoyable pre-sets I've ever encountered, the cast of Barber Shop Chronicles invite the arriving audience on stage for a (fake) haircut, selfies galore and dancing to a pumping bass beat.
As us customers drift away to our seats, the cast gather centre-stage, look up to a TV screen, celebrate a goal and we're off on a journey in and out of six barber shops between England and Africa, specifically Lagos, Kampala, Harare, Accra, Johannesburg and London.
In a series of vignettes, with the 12-strong cast often playing multiple roles, barber and customer(s) pontificate on life, football and the way things are as the characters' connecting threads are gradually revealed. Masculinity doesn't always get a good press with column inches often debating questions along the lines of "so just what does it mean to be a man in the 21st century?". Based on the evidence in Inua Ellams's text—which zings and sings with humour and humanity—the answer is not clear-cut, but what does shine through is a good heart and a strong sense of respect, empathy and shared values.
The backbone of the play features Samuel (Mohammed Mansaray) who works a chair at the barbers run by his father's friend and business partner Emmanuel (Anthony Ofoegbu). Samuel's father is absent, and the reasons for Samuel's aggression towards Emmanuel become apparent in the emotional final sections of this engrossing play. As well as getting a damn fine haircut, topics for discussion include nervousness at becoming a father, experiences of domestic abuse, absent fathers. Emmanuel Ighodaro as Simphiwe, addled with drink, delivers an angry tirade aimed at Nelson Mandela, resentful Mandela never held the perpetrators of oppression and apartheid sufficiently to account.
The supremely talented cast switch expertly between beautifully drawn characters, some in grave danger of stealing the show. A case in point is Demmy Ladipo and his outrageous 'Bad Boy' commanding the Three Kings barbers in London as well as the stage with his theories on the pros and cons of bedding black and white women.
Ellams's skill and renown as a poet shines through the lively dialogue, not only his vivid turns of phrase and authentic humour but with the characters' own consideration of their respective languages. The discussion on Pidgin English and 'owning' controversial terms really highlights how language and identity are so closely connected, particularly when you are far from your homeland. There's a joke about basmati rice I didn't quite catch but it drew loud, appreciative roars of approval from the audience.
Bijan Sheibani's direction, Rae Smith's design and movement direction by Aline David are a perfect marriage with the scene transitions, a joy of song and a dance of barber shop chairs and paraphernalia.
Since its successful opening in 2017 at the National Theatre and a world tour last year, this touching insight into black masculinity is now on a UK tour. Yes, this is life viewed from a male experience, but at no point did I feel this was not for me—it is fascinating, hugely enjoyable and, as if you've had the sharpest haircut ever, you'll leave feeling on top of the world.
Reviewer: Sally Jack