Barber Shop Chronicles
Inua Ellams
Fuel Theatre
Dorfman Theatre (National Theatre)
–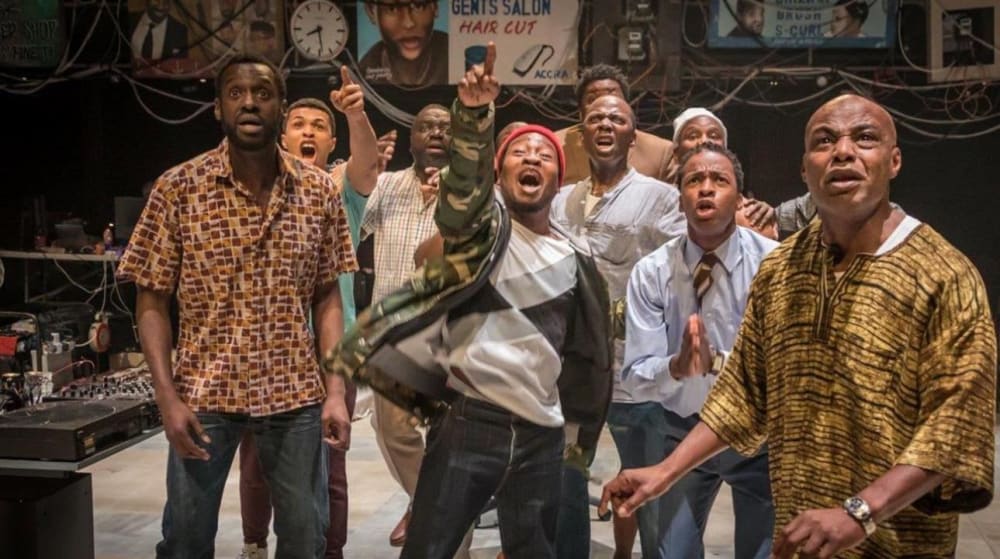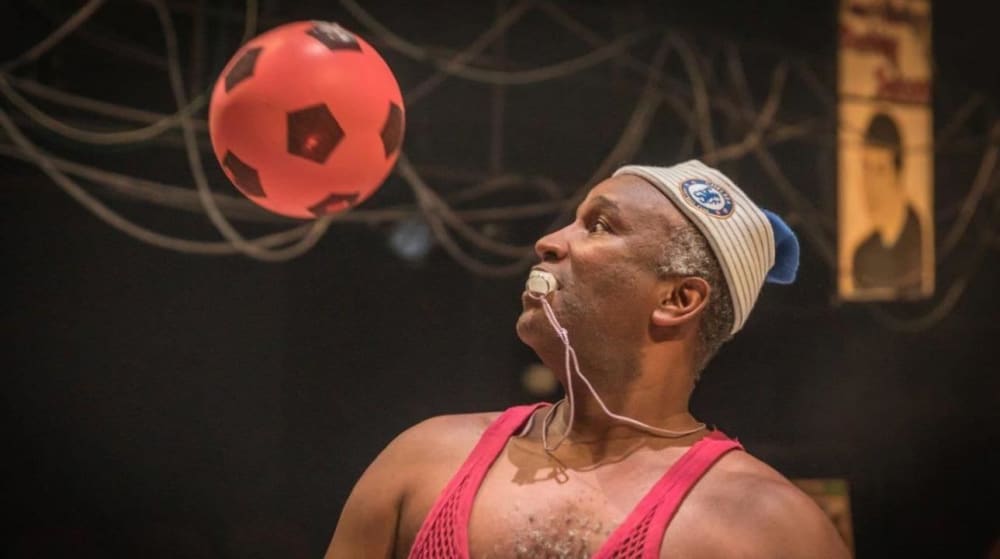 Inua Ellams has written a play that starts out looking like very much like a series of episodes from a pan-African soap opera/sitcom but builds into an intelligent exploration of all things African, admittedly with a strong masculine bias.
Opening with what is effectively a comic sketch taking place at 6AM in Lagos, Nigeria, the scenes then alternate between barbers' shops rotating around half a dozen African cities across South Africa, Zimbabwe, Nigeria plus more, and one in London which contains the thread holding the evening together.
Scenes at the Three Kings shop in London primarily track the warfare between Cyril Nri as proprietor Emmanuel and Fisayo Akinade playing Samuel, nominally an employee but with a sense of entitlement as son of his former partner, now absent for three years.
Their power struggle threatens to become epic but ends touchingly with a microcosmic demonstration of Truth and Reconciliation.
Before that, as numerous tales develop, themes recur and humour often gives way to political debate and human drama.
By the end of not far short of two hours, many issues have been addressed. These include the generational difficulties facing fathers and sons across the world, especially in broken families, racism, African identity, financial hardship, alcoholism and Chelsea's attempts to defeat Barcelona in a match televised globally.
Bijan Sheibani directs a strong ensemble in the round on an attractive Rae Smith set, surrounded by local posters and topped by an illuminated globe.
While it is often unfair to mark out individual actors in team efforts of this type, Patrice Naiambana repeatedly catches the eye, never more so than when making an impassioned speech about South Africa, in which his character seeks to justify detestation of the late President Nelson Mandela.
The playwright cleverly interleaves stories so that a reference in a London scene will suddenly make real sense when you meet the character referred to in, say, Nigeria. The lack of any obvious coherent narrative drive in the early stages of the evening is also counteracted by later events, which allow much of the drama to be pulled together and make perfect sense.
By the end of an evening punctuated by song and dance, viewers will have witnessed barbers from across Africa as well as a trio in London and learned a great deal about the black male psyche not to mention some serious political and social matters. They will also have had a great time, which is a pretty good reason to go to the theatre.
Reviewer: Philip Fisher