Barber Shop Chronicles
Inua Ellams
West Yorkshire Playhouse, National Theatre and Fuel
West Yorkshire Playhouse, Leeds
–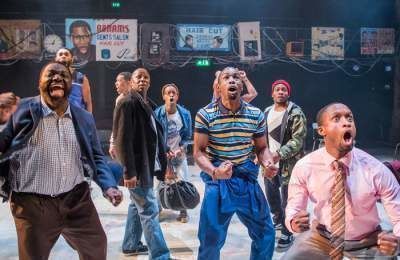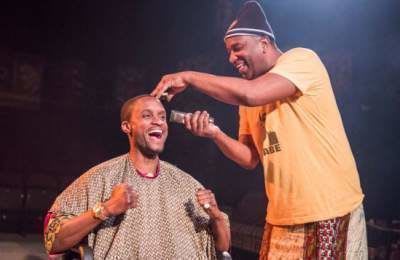 Following a critically acclaimed run at the National Theatre, where it received a clutch of four and five star reviews, Barber Shop Chronicles comes to the West Yorkshire Playhouse for three weeks before returning to London later in the year.
Although Inua Ellams's play is largely inspired by barbers he met in London and various African countries, Barber Shop Chronicles has a significant connection to Leeds. Not only is one of the characters directly inspired by a Leeds barber, the play also began life as a work-in-progress at the Playhouse's Transform Festival in 2014. Furthermore, this production represents the first ever collaboration between the National and the West Yorkshire Playhouse.
Inspired by Ellams's local barber shops in Peckham, where black, African and Caribbean men meet to socialise and chew the fat, Barber Shop Chronicles is a nuanced exploration of African masculinity that ranges across six different countries on two separate continents. Throughout the play, we return to the same London barber shop, but there also scenes set in Johannesburg, Harare, Kampala, Lagos and Accra. Each of the scenes is linked by their barber shop settings and the characters' shared interest in the football match being played between Barcelona and Chelsea.
Ellams recognises that many male arenas in Britain, such as pubs and football stadiums, have been traditionally closed off to non-whites, so the barber shop serves as a safe space for men of colour to congregate and share their ideas. Throughout the play, the characters discuss a wide range of issues, including homosexuality, child-rearing, violence, relationships with women, politics and even semantics.
Arguably the key theme running throughout the play is the complicated relationship between fathers and sons. In London, young barber Samuel (Fisayo Akinade) struggles to deal with his father's imprisonment and shows open resentment to Emmanuel (Cyril Nri), the man who now runs his father's shop. In South Africa, middle-aged drunkard Simphiwe (Patrice Naiambana) complains about his feckless father abandoning him as a child.
Barber Shop Chronicles is a superb piece of work that deserves to attract a large and appreciative audience. There is such wisdom and maturity in the writing that I was surprised to learn that this is only Ellams's third piece for the stage. He manages to paint on a broad canvas, marshalling a variety of characters and locations, without overloading the play. Occasionally he makes his thematic concerns over-explicit, but on the whole he succeeds in exploring complicated ideas with a pleasing lightness of touch.
The joyful exuberance of the dialogue is expertly performed by a superb cast, all of whom are outstanding. I was particularly impressed by Hammed Animashaun, who skilfully delineates each of his four roles and gives a scene-stealing performance as Mohammed, a Muslim wide boy who holds forth on whether it's better to sleep with black women or white women. Equally terrific is Patrice Naiambana as Simphiwe, who delivers an angry, impassioned speech about Nelson Mandela and the supposed emasculation of black men that resulted from South Africa's policy of reconciliation.
Bijan Sheibani's vibrant direction means that the pace never flags during its 105-minute running time. The transitions between scenes are fluid and dynamic, making excellent use of music and dance. Furthermore, the decision to stage Barber Shop Chronicles in the round means that the audience are immersed in the action from the very beginning.
Rae Smith's set design evokes the down-at-heel nature of many barber shops, and the wire globe suspended above the stage serves as a constant reminder of the play's wide-ranging scope.
Barber Shop Chronicles is undoubtedly one of the finest productions I've seen this year. Highly recommended.
Reviewer: James Ballands