Barnum
Music by Cy Coleman, lyrics by Michael Stewart and book by Mark Bramble
Menier Chocolate Factory
–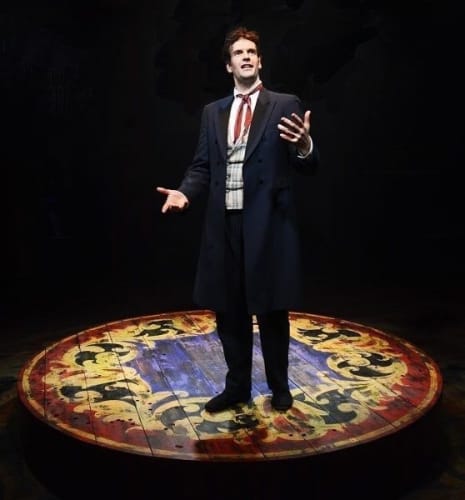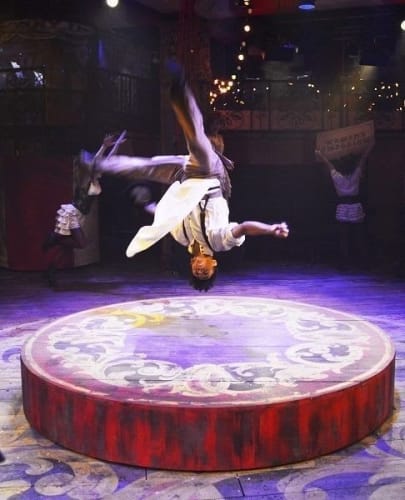 Barnum is a show about a showman. Comedian and broadcast favourite Marcus Brigstocke has been chosen to portray Phineas T Barnum, a larger than life entertainer who built a life on humbug, relying on the maxim that "There Is a Sucker Born Every Minute".
Barnum (Taylor to his wife) is a dreamer of the kind that usually end up frittering away their lives between chasing after cast-iron certainties that sink without trace and trying to stave off bankruptcy.
However, in the middle years of the 19th century, he hit the jackpot time and again, combining wild vision, brave speculation and much-needed stability, largely provided by that wife, the long-suffering Charity, played with smiling enthusiasm by the tuneful Lara Pitt-Pulford.
His imagination and her calculating conservatism were utilised on a series of wild projects. Most were based around his sideshows, which featured such delights as a 160-year-old-woman who wasn't and a 25" tall man, General Tom Thumb, who was, although his name was invented.
The circus ring and freak show gave way as a money-making medium to more serious ventures. Barnum invested big in Jenny Lind, The Swedish Nightingale, whose operatic tones, as voiced by Celind Schoenmaker, were unforgettable and apparently highly seductive. If the show is accurate, the blonde songstress not only made money but also spent six months close enough to Barnum to threaten his marriage, before he eventually saw sense.
Later, Taylor Barnum sought political office first as a local Mayor and then a national Senator, although his Washington aspirations bit the dust before reaching fruition.
After his break from the entertainment industry, a widowed and wiser businessman returned to showmanship in the partnership for which he is now most famous with Dominic Owen's James A Bailey, doing everything on the grandest of scales.
The musical provides snapshots of this eccentric life, helped by Marcus Brigstocke's lively personality, which is far stronger than his voice or tight-rope act, if the performance on opening night was representative.
For the occasion, the Menier's auditorium has been transformed into a spectacular big top by designer Paul Farnsworth with plenty of room for a large and very acrobatic cast to wow the visitors surrounding them with some stunning and frequently daring choreography, created by Rebecca Howell.
Even though the music was composed by Cy Coleman, whose stage credits include a major Menier hit, Sweet Charity, the score tends more towards the romantic than the memorable. However, whenever Jenny Lind sings the audience pays attention and the full company numbers such as "Come Follow the Band" and "Join the Circus" are real crowd pleasers.
In summary, Barnum is an undemanding, upbeat musical that relates the tale of a true eccentric, Phineas T Barnum, and the love that he found with his perfect wife, Charity. However, the real strength of Gordon Greenberg's production lies in the energy and panache shown by the large cast.
Reviewer: Philip Fisher