The Hound of the Baskervilles
Arthur Conan Doyle, adapted by Peepolykus and Steven Canny
Duchess Theatre
(2007)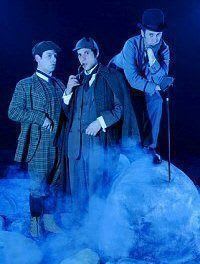 These days, if ripping yarns make it onto the stage at all, they are almost always played for laughs. There is something about the traditional British stiff upper lip that cracks up contemporary theatregoers.
In the West End's other small house The Criterion, Patrick Barlow's adaptation of The Thirty-Nine Steps has been going from strength to strength. If anything, this new version of Conan Doyle's classic story of terror on the moors is both funnier and more inventive. It also survives with any even smaller cast - just three.
The evening has a cracking start as good old Charles Baskerville, aided by Mic Pool's fantastic soundscape, meets a tragic and genuinely scary end before a word has been uttered.
His demise is to be investigated by a suave, sophisticated but surprisingly Spanish Sherlock Holmes, played by Javier Marzan. John Nicholson who adapted the text supports the great man as his dimmer than dim partner Dr Watson, a fellow who acts as a perfect, blunted foil to the investigative genius throughout the two-hour spoof.
The teamwork between these two is fantastic, as one would expect since they are founder members of Peepolykus and have worked together on many occasions. It is a delight to be able to report that the imported member of the trio, Jason Thorpe, not only fits in perfectly but on many occasions, is severely at risk of stealing the show such is his talent and enthusiastic commitment.
Inter alia, Thorpe portrays Sir Henry Baskerville, the last of a very distinguished line. Intrepidly, despite death threats he travels down to the family pile on Dartmoor. On the way back, he falls in love with the gorgeous Cecile (Marzan), a woman with a sinister brother who, like so many of the minor characters, looks like her. What can you expect with a cast of three?
As the sinister story develops, the small company uses many different acting and producing styles primarily to get laughs, which they do far more often than not. The comic timing is almost always perfect across both the verbal and physical gags, which must owe much to the drilling of director Orla O'Loughlin.
There are many hilarious moments as Peepolykus deconstruct both the genre and their own production, drifting out of the play on a number of occasions. Highlights include the terrors of a boggy mire that will eventually claim the baddie, a flying fireplace that, like a spaceship, lights up on landing, and best of all, immediately after the interval, a brilliantly conceived and energetic fast-forward recap to remind us of what has gone before.
This is high-class comedy that is sustained pretty well throughout and owes much to the efforts of a cast that gives its collective all to ensure that a good time is enjoyed by what should be a very appreciative audience.
This production has been reviewed at Leeds and Winchester
Reviewer: Philip Fisher