The Hound of the Baskervilles
Adapted for the stage from Arthur Conan Doyle's original by Clive Francis
Salisbury Playhouse
(2004)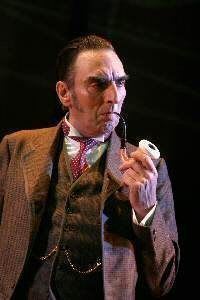 It's the way I tell 'em, explains the Irish comedian pausing between jokes. Well, members of Nottingham Playhouse Company, in a co-production with Salisbury Playhouse, barely pause for breath between the lines of Clive Francis's adaptation of Conan Doyle's The Hound of the Baskervilles.
Yet it's between the lines that this entire performance is to be found.
Mrs Hudson still answers the door at 222B Baker Street, Watson, as usual, is there completing his chronicle and Holmes is about to astonish us with some elementary truth. Yet Rathbone and Bruce, Brett and Burke were never quite like this - nor for that matter, was Conan Doyle himself.
Richard Baron's production, now transferred from Nottingham to Salisbury, uses an ensemble of four male actors in a black and white approach very close to, say: "the sign of four Ronnies" or, even, four men and a dog!
Teasing such a family friend as The Hound of the Baskervilles, Baron and his company might have easily come unstuck. Happily they not only keep their nerve: this is also a highly versatile foursome of Jamie Chapman, Robin Harvey Edwards, Granville Saxton and Jeff Shankley between whom the various characters slip back and forth as required with ease. Saxton even manages some outrageous caricature without loss.
Hardly a word seems to have been altered. We may fancy we hear improvisations and borrowings but the whole story, including screams and howls, sails mischievously through the stage mist on its knife-edge as though this were the sort of thing Conan Doyle did every day.
It's doubtful whether it would work at all without such a design team as Ken Harrison (design), Timothy Bird (projection), Nick Richings (lighting) and whoever else helps with all the effects. Andrew Lloyd Weber's crew for the moving imagery of A Woman In White has nothing on this!
Doubtful, too, whether it would work without a story that was known and adored by virtually everyone in the house. It is, after all, the way they tell it.
"The Hound of the Baskervilles" continues at Salisbury Playhouse until Saturday 23rd October.
Steve Orme reviewed this production at its premiere at the Nottingham Playhouse
Reviewer: Kevin Catchpole