Batsheva Dance Company
Three - (UK Premiere) Sadler's Wells
20 & 21 October
Mamootot - (UK Premiere) Riverside Studios 22 - 25 Oct Part of Dance Umbrella 2008
(2008)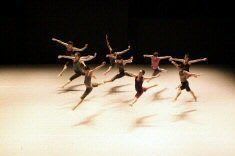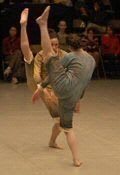 The UK premieres of Ohad Naharin's (artistic director of Batsheva Dance Company) Three (2005) and Mamootot (2003) have been long awaited - he is much loved and admired for his joyful choreography that springs from folk dance, martial arts, classical ballet, and intuitive 'Isadora Duncan' invention. Dance, one feels, that anyone could do if only they had the stamina. Indeed, his 1999 Minus 16 piece invited (p)lucky audience members on to the stage to join in the finale. How democratic is that!
Naharin's Three and Mamootot dance moves are freewheeling, disjointed, opaque, repetitious, jarring, beautiful and ugly, but not joyful this time, nor passionate or erotic in spite of 'in-yer-face' full-frontal nudity. The dancers are driven by some secret inner impulse, mostly out of joint with each other. Meaning, if there is any, we must supply.
Three is sectioned Bellus, Humus, and Secus, 70 minutes long in total, danced without interval. In Bellus (beautiful) dancers of different shapes and sizes in not a particularly attractive range of knee-length shorts and T-shirts are playground kids, circling and sniffing each other, individual keynotes in the faux-improvised responses to Glenn Gould's idiosyncratic playing of Bach's Goldberg Variations.
Humus (soil?), more of the same for nine women, to Brian Eno's ambient barely audible Neroli, "is quiet, very quiet" announces a dancer with his disembodied head speaking from the TV under his arm (a Warholian or a medieval reference?). High-stepping Amazons, fingers splayed on tops of heads, grimace like gargoyles, click their tongues, beat their chests, shake on the floor, and run on the spot - it all looks purposefully ad hoc.
The 35-minute Secus (legal term meaning different, otherwise?), again announced by the droll talking head, to a sound mix by Stefan Ferry, ends with the Beach Boys Welcome. Seventeen dancers do their own thing - to electronic sounds, funky rock, Bollywood tunes, gospel - lots of floor exercises, and a funny male ballroom duet. And lighting blackouts. Merce Cunningham and William Forsythe do it better.
Girls moon at the audience; girls and boys lift their vests, expose bits of their bodies, and take it in turns to drop their trousers and reveal their similarities - the boys genitals tucked away neatly. Confrontational, letting off steam, telling it like it is - baring bodies and souls - faces inscrutable. Alpha males and alpha females, one minute signalling 'fuck you', the next, open armed, saying welcome. Subversive, exploring their own creativity, or is there some ironic meaning - look we have nothing to hide - we are not suicide bombers?
Body shapes, styles and dancing levels are varied - some move with classical precision, others are gawky and ungainly (I longed to tell one to drop her shoulders), but all are acrobatic, fast, dynamic, sturdy, as they investigate the possibilities of the body.
Reviewer: Vera Liber