Bayadère – The Ninth Life
Choreography, concept and direction Shobana Jeyasingh / music Gabriel Prokofiev
Shobana Jeyasingh Dance
Linbury Studio Theatre, Royal Opera House
–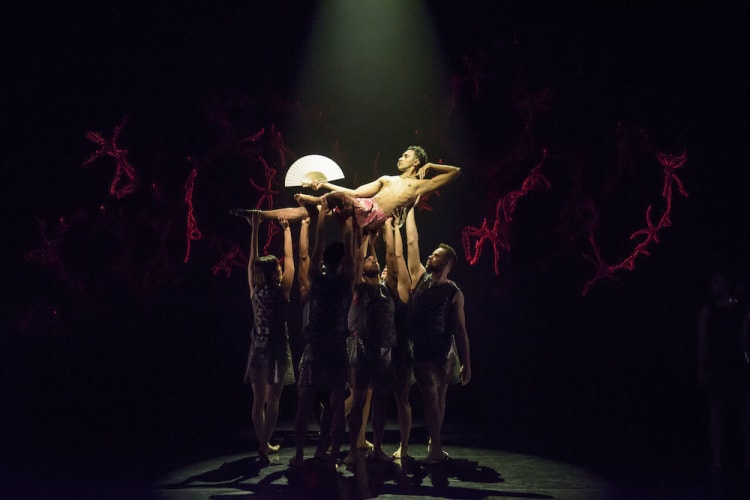 Avatars—that's what Bayadère—Ninth Life is about, I get it. Or do I? Many of you will know Second Life, a 3D avatar virtual world. Avatars meaning different deities and manifestations also exist in Hinduism.
Shobana Jeyasingh seems to have taken this link and made a scholarly argument in dance, riffing on the provenance of Petipa's fantasy world mishmash of the 'oriental' in his 1877 St Petersburg La Bayadère, which so intensely irritates her and her alter ego Jas Gupta (Sooraj Subramaniam), who opens the just under an hour long production.
Sitting on the floor centre stage under a spotlight with his computer tablet, he is mulling over in his blog his reaction to the ballet La Bayadère his friend has just taken him to see for the first time. "I have never seen a holy man look like this." "Pure Bollywood." "At last something truly Indian, the long wedding celebration."
As he outlines the story and presents each character in turn, dancers appear before him. He turns them into dancing avatars on his screen, projected on to a larger one behind him (video Ravi Deepres), creating a collage of their moves and a storyline strip.
The screen fades and eight dancers, modern avatars of Petipa's bayadères take the stage, four men and four women. Jeyasingh now adds another layer: a voice (Benedict Lloyd-Hughes) reading extracts from Théophile Gautier's journal on the visit in 1838 of real Indian devadasi temple dancers, the bayadères originals, to Europe.
An alien creature stirs his imagination: "a thing of mystery", "an ocean of sunshine, perfume and beauty", "a silhouette of the East" repeated and intoned. Jewellery, teeth, "tawny skin", "we often went to see her."
One can see that this European ogling of these 'exotic' dancers irks. Though maybe it's not too different from the excitement Diaghilev's 'exotic' Ballets Russes produced in Paris in the early 1900s.
A moving experience for him, but one that Jeyasingh's dancers have to replicate in her signature choreography with its added satirical undertow. They sniff and sample, circle and feel Gupta, who has now turned into a beautiful devadasi—a male in a female role, another transformation into a spirit of another realm.
He spins back and forth on his turntable axis, as the others imitate and appropriate his moves, his lotus flower fingers. Indian culture colonized and romanticized by the greedy for new experiences West. The fake often becomes the accepted reality. Is anything echt?
The South Asian classical dance Bharata Natyam, in which Shobana Jeyasingh originally trained, can trace a lineage to the temple dancers of South India. Her unique selling point is its fusion with contemporary dance.
Alienation, dislocation, and deconstruction, Ninth Life is intellectually satisfying, and when the talking stops and the dancers just dance their version in some astonishingly supple poses and interlinked locked moves, they are amazing, Avatâra Ayuso, Sunbee Han, Noora Kela especially, but the choreography feels incomplete.
Jeyasingh pays her respects to the famous Kingdom of the Shades opium dream sequence from La Bayadère with its penchées arabesques. Gupta now back in civvies watches the group dance—is this how he wants to see it, more true to his contemporary Indian sensibilities? Imprinting time on his computer software?
"Our conversation was rather limited", says Gautier about the temple dancer Amany, who became the avatar for the ballet dancers that followed and the choreographers that shamelessly borrowed. Not only words are the false friends of the translator… They only knew a few of each other's language.
A personal irritation exorcised, a playful response to the West's passion for the East since time immemorial, but Bayadère—Ninth Life feels like an unfinished project. It plays with a stimulating concept in a chain reaction of past and present then peters out. The screen goes fuzzy.
Gabriel Prokofiev's electronic tinnitus hums, whirrs, tropical forest chatter and heavy rhythmic beats, Adam Wiltshire's set and costumes (warrior metal greys for the eight, and deep pink chintz skirt and bare torso festooned with jewels for the temple dancer) and Fabiana Piccioli's stunning lighting—squares of light tinged with reds and greens that fan out—provide the back-up.
Reviewer: Vera Liber