Jack and the Beanstalk
Mark Clements, original songs by Ben Occhipinti and Mark Powell
Salisbury Playhouse
(2011)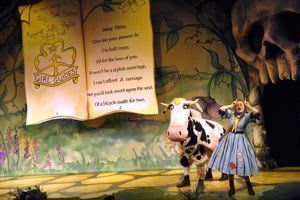 Published 1730, Jack and the Beanstalk is arguably the oldest of English pantomimes, having been staged first by David Garrick at the Lyceum in 1773.
Salisbury's sparkling new version is a riot of colour and fun with a strong cast and excellent costumes by the team led by Henrietta Worrall-Thompson, Penny Peters and Teri Buxton. Dame Trott, a particularly tart performance by Alan McMahon, has an extremely fine wardrobe with a new gown for almost every scene.
I shall continue to bemoan the loss of the traditional principal boy—this show among others having been graced by the shapely presence of the great Dorothy Ward. I realise the sad trend was begun by, of all people, Norman Wisdom followed by a chain of 'sixties pop-stars. However I had hoped that Cilla Black had reversed the trend!
Never mind, Salisbury gives us the handsome Mark Anderson as Jack Trott and his legs look as good as any on stage. A nice singing voice, too, though the otherwise excellent score by Ben Occhipinti and Mark Powell doesn't give him too many numbers.
And there is delightful singing, too, from the lovely Sammy Andrews as Rose. Irresistible is the Girl Guide Silly Jilly Trott of Denise Hoey who quite put me in mind of Monica from steam radio.
The true spirit of panto is provided by the charming performance of Emily Butterfield as Fairy Sweet Pea. And a dour performance by Tim Treslove as Ivor Bogey.
Christopher Robert is a sympathetic Mayor Bertram but the whole show is brilliantly stolen by Samuel Martin as the huge presence of Giant Blunderbore.
The spectacular design is by Karen McKeown, lit by Peter Hunter, with direction by Ben Occhipinti and musical direction by Jack Merivale.
Jack and the Beanstalk continues until Saturday 7th January.
Reviewer: Kevin Catchpole