The Beard
Michael McClure
Theatre 14167
Old Red Lion
(2006)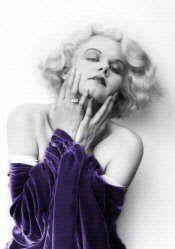 Few plays have a history quite like that of The Beard. The press release is the best. This play "won a landmark victory in the [Los Angeles] Superior Court and went on to become the most controversial play of the Sixties".
This Beat Generation two-hander from 1968 offended the authorities in San Francisco and Los Angeles so much that the actors spent more time in gaol than the theatre. Bizarrely, while playing in Los Angeles, they were arrested after each of 14 consecutive performances.
So, what was the fuss all about? The simple answer is the (presumably simulated) oral sex scene that closes an event that lasts less than an hour and depending on taste, could be regarded as the tedious, drug-induced ravings of a madman or an avant-garde exploration of the nature of sexuality, celebrity and the afterlife.
It probably helps to arrive at the theatre well prepared. Unlike most others in London, a bottle of water is not necessary since this tiny space above a pub at the Angel is air-conditioned.
The preparation, which need not involve illegal stimulants, is far more mental than physical, since the play has little plot, much deliberate repetition and meaningless verbal jousting before building up to its earth-shattering climax.
It is also best to avoid getting too excited about the music composed specially for this play by minimalist icon Terry Riley. This only lasts about half a minute at either end of the play, at least allowing for a rather attractive silent prologue.
Blonde film star, Jean Harlow played by Victoria Yeates is having a fine time in eternity (heaven) spreading her "blonde hair on blue velvet" until a hunky Cowboy, Christopher Daley's Billy the Kid strolls into town.
She wants to be loved and admired; he wants to get his hands on her. The language that each uses is picked up by the other in a kind of verbal game of hide and seek. While sex is never far from their minds, their deeper search is for the real person beneath the other's image and possibly their own, though whether either ever really reaches it is unclear.
Afterlife in eternity is not quite what it seems and both delight in debunking the reputation of the other until eventually, they are stripped down to the status of normal human beings and possibly, in Michael McClure's view, allowed a taste of true freedom.
This play is very much a collector's piece and of its time. However, this revival by Nic Saunders acts as a reminder of some of the more bizarre events that took place in theatres during the late 1960s and with good performances from the actors (and that air-conditioning) makes the Old Red Lion a hip place to be this summer.
Reviewer: Philip Fisher