Bear Hug
Robin French
Young Playwrights season
Royal Court Theatre Upstairs
(2004)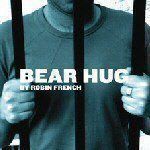 The third play in the Royal Court's Young Playwrights Season is a slight Theatre of Excess piece that seems almost like a sequel to its partner, The Weather.
Bear Hug is less than half an hour long and tells the story of the strained relationship between Michael and his parents.
Since Michael has turned into a grizzly bear, life isn't easy. By the end of the play, incarceration in the zoo seems inevitable, if only to protect the remains of his parents, played by Helen Schlesinger and Jonathan Coy. Mother has lost her hands to her hungry son while the playful youngster has left dad's guts spilling across the kitchen floor.
This metaphor for family problems is a gross black comedy that complements The Weather. With the same director, actors and set, and a similar style, while it has its moments, it tends to feel too much like the snack following the feast.
This review originally appeared on Theatreworld in a slightly different version
"Bear Hug" plays until 16th October
Reviewer: Philip Fisher