Beat the Devil
David Hare
London Theatre Company
Bridge Theatre
–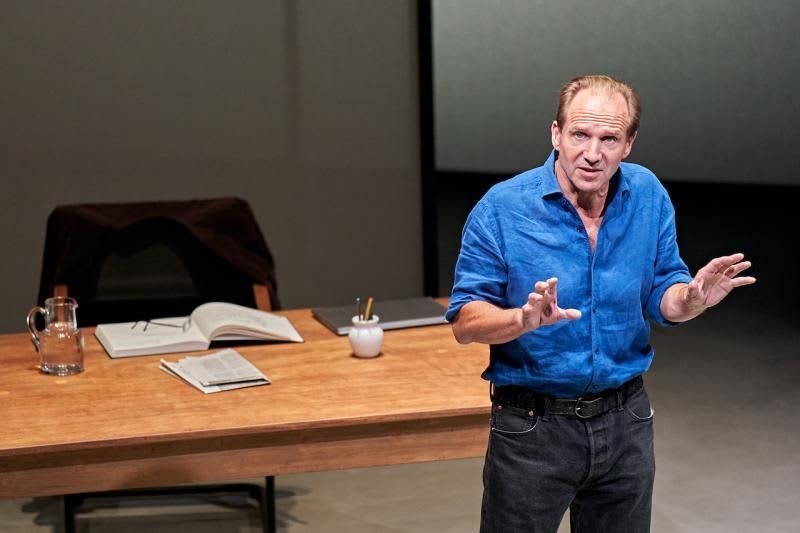 Temperature checked on entry, via an all-gender loo where a majority of urinals are marked not for use to ensure safe social distancing, to one of The Bridge's comfortable leather seats set in isolation (seats in front, behind and on both sides removed), I make my first venture into an indoor theatre since Seven Streams of the River Ota at the NT nearly six months ago.
Beat the Devil, a fifty-minute monologue, just one man with a table and chair and a jug of water on a near-empty stage, might seem a big contrast to Robert Lepage's seven-hour complex landmark production, but scale is immaterial; there is the excitement of being back in a theatre in a shared space not watching a television or computer screen—and without the risk of being rained on!.
This is the first of a repertoire of one-person plays being presented through to the end of October which will include eight of Alan Bennett's Talking Heads in double bills, performed by the actors who presented them last June on television in a collaboration between The Bridge Theatre and the BBC, and plays by Inua Ellams, Yolanda Mercy and Zodwa Nyoni.
David Hare caught the COVID-19 virus before Britain went into lockdown and here shares both his experience of it and his opinion of how the British government has responded to the pandemic. It's David Hare so don't expect subtlety: it's plain speaking. We are still in the thick of it: it's not a considered retrospective but an angry report from the front line.
Hare starts by telling us that whatever he eats it tastes like sewage. That's the effect of the virus. Does Hare really know what sewage tastes like? But the rest that he tells us is less hypothetical as he describes symptoms: fever, vomiting, breathing problems, delirium.
Hare resists the idea of going to hospital and he and his wife, Nicole Farhi, don't individually isolate as the authorities recommend. They continued to share the same bed, use the same bathroom. When he feels he is freezing, she lies close to warm him. This is frank and detailed reportage fed by occasional checks with his diary record, but what begins as that personal story increasingly turns its attention to the way that the Government has acted in response to the virus, an outcry against its mishandling of the situation.
As his illness is making him delirious, his craziness is paralleled by the Government's mad phase and he rages at government failings over quarantine, PPE, care homes, test and trace. There is something cathartic in seeing someone explode with such anger but even more than the incompetence of which he accuses them it is dishonesty for which he most savagely excoriates them. Reminding us of previous events such as Bloody Sunday and Grenfell, he declares that honesty is the only way to deal with such disasters: the most "soothing bandage for grief, is the truth." Indeed, how can politicians expect us to trust them if they do not trust us by telling us the truth?
This serious stuff has a thread of sardonic humour strung through it, though I was surprised at just how freely the audience I saw it with laughed—but perhaps that is one way of dealing with our fears over COVID-19. Though full of passion, it avoids becoming diatribe and Ralph Fiennes's compelling performance will surely carry with it even those whose political stance makes them disagree with some of its criticisms. Bunny Christie's simple setting and Nicholas Hytner's production help project the performance which at first seems to echo in the socially distanced auditorium, but one quickly adapts to the acoustic and moves that come naturally from the content keep it visually engaging. This is about the pandemic, not theatricality.
Reviewer: Howard Loxton