Beautiful Damned
Ben Weaver-Hincks
Leicester Square Theatre
–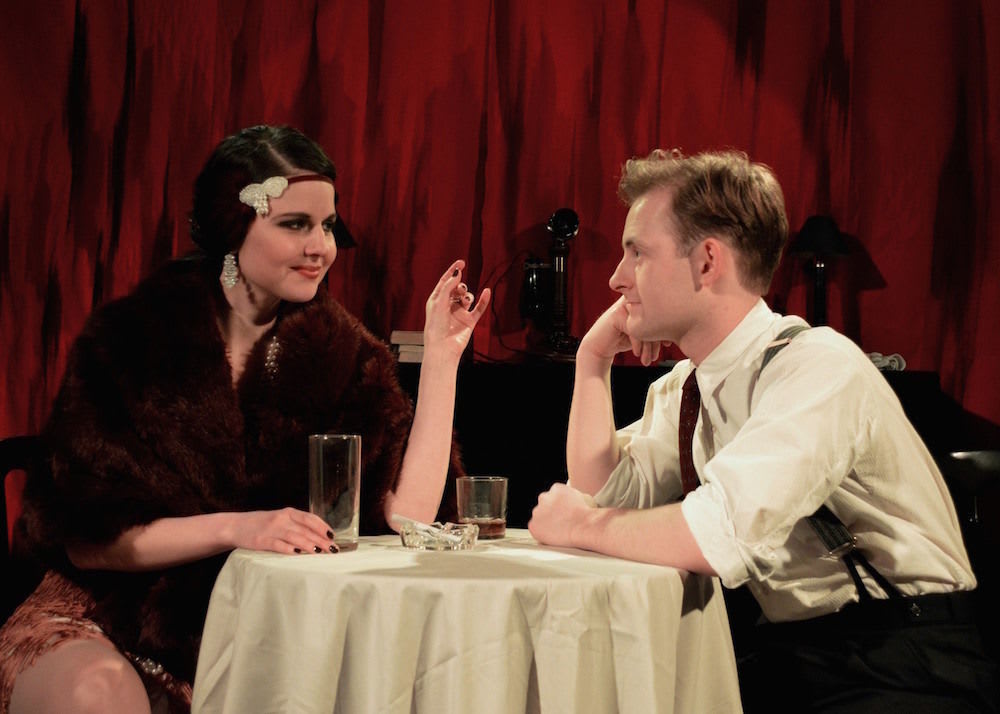 Scott Fitzgerald's tale of decadent love is brought to life on the small stage of 'The Lounge' at Leicester Square theatre. It is the story of Gloria Gilbert (Nadia Cavelle), a debutante from the West, and her husband aspirant writer Anthony Patch (James Hyde), who writes, though, very little.
Both indulge in the melancholic reminiscing of their past life spent in the luxury of idleness, and of high profile parties. Flashbacks are re-enacted throughout, breaking the flow of their confessions in the present as they blame each other for a wasted youth, a deranged marriage of love given and lost.
The actions and the words that well reflect Scott Fitzgerald's poignancy are charmingly underlined by the background music of the piano played by Guy Hughes as Fitz, who composed and adapted the music. Fitz is also the waiter who serves them and interacts with the disturbed couple occasionally with stories of his own.
We are projected into Scott Fitzgerald's world where wealth and beauty inspire only lack of vocation and of real commitment and inevitably leads to the characters' fall and tragedy. It is an impalpable world that Ben Weaver-Hicks, director writer and producer, presents to us.
It is a world that, however, has lost its charm and feels anachronistically decadent, because too much effort has been dedicated into recreating it but not enough to make us feel more for the characters and their situations.
The lack of clarity in the slight patchy exposition of past events also makes the pace of the show heavy and redundant. The names of the characters' acquaintances are often mentioned but it is difficult to make out who they really are and what their function is in the context of the story. Fitz's character is a bit hit and miss and it would have been interesting to see more of him, especially in the later stages of the play.
Cavelle as Gloria is charming enough as a spoiled, shallow femme fatale and convincingly changes into the older and bitterer grand-dame that her character becomes. Hyde matches Cavelle well but is not as strong and believable. Both, though, are at times caricaturesque figures, more a persiflage than rounded characters in a representation that struggles between comedy and tragedy.
It is the musical element that is the real protagonist here, saving the show. If there was something of The Great Gatsby in this tale, it is lost in a production that is not always mature enough to deal with the irony and the depth of Scott Fitzgerald's work.
The show will tour to other venues in London and the south east till 16 February.
Reviewer: Mary Mazzilli