Beautiful Thing
Jonathan Harvey
Nottingham Playhouse, Curve Theatre, with Tom O'Connell for QNQ
The Lowry (Quays Theatre)
–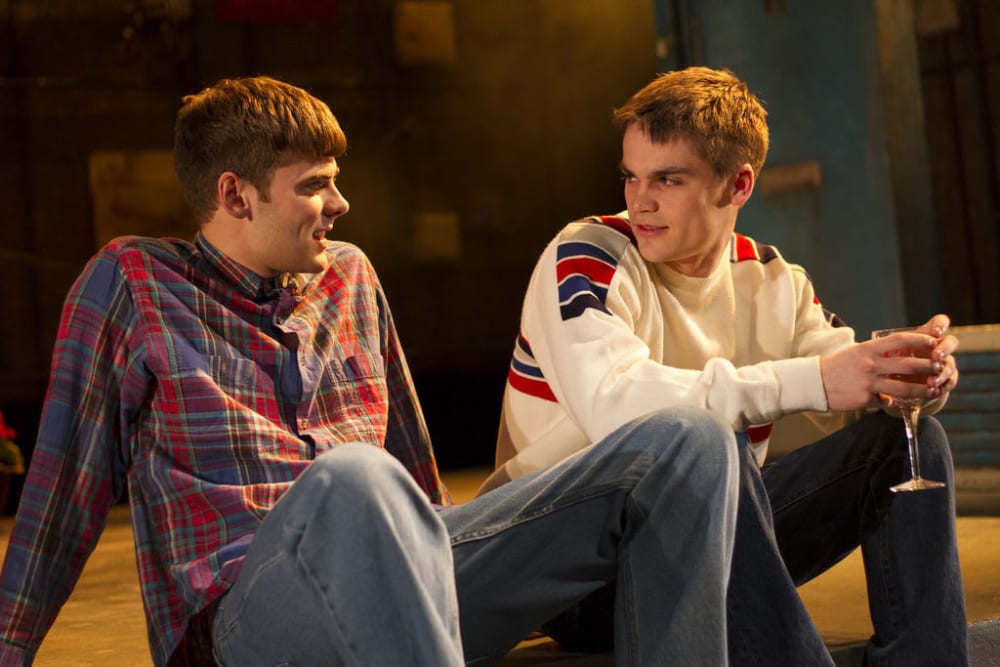 It is one of the great (though possibly fortuitous) accomplishments of an artist's life to create something which is loved by a significant number of those who encounter it.
Though not perhaps on the scale of Mark Haddon's The Curious Incident of the Dog in the Night-Time, Jonathan Harvey's play Beautiful Thing is clearly one of those blessed creations. This much is clear from the rousingly warm ovation tonight's performance of this new co-production from Nottingham Playhouse and Curve Theatre receives.
15-year-old Jamie lives with his mum, Sandra, on a Thamesmead council estate: the sort of place where they nick shopping trolleys for fun and play loud music with no regard for their neighbours or the paper-thin walls that separate the dwellings. To one side of Jamie lives Leah—mouthy, troubled and (even though this is the mid-1990s) obsessed with '60s singing star Mama Cass. To the other side, motherless and abused by his big brother and his drunkard father, lives Ste. Sporty Ste is much admired by Leah and also, unknown to anyone else, by Jamie.
After yet another violent incident, Sandra allows Ste to take refuge for the night in Jamie's room. Having the apple of his eye sharing not just his room but also his single bed (albeit top-to-toe) is too good a situation for Jamie to resist. By the second night, the hormones have really hit the fan.
While Ste does not resist Jamie's advances, he does, at first, refute the implications—"This doesn't mean I'm queer." For his part, Jamie has no doubts—he's never been happier than in Ste's arms. But what will happen if their secret gets out?
Part of the beauty of Beautiful Thing is in its eschewal of preachiness. Jamie (Sam Jackson) and Ste (Thomas Law) are just two teenage lads finding their way, and the dangers and prejudices they face (without being glossed over) rarely look likely to destroy the pleasures of their developing bond. There's a lot of fun and humour here, and plenty of ribald, laugh-out-loud dialogue (my favourite being Sandra's speculation about whether, sleeping top-to-toe, the boys have engaged in a little 'seventy minus one').
The production is competent rather than sparkling, and the director's failure to find the dramatic heart of the supporting characters in particular leads to an emotionally flat show. The sexual tension between the two young leads never quite crackles (even the teen awkwardness is played a degree or two on the tepid side). Leah (Vanessa Babirye) and Tony (Gerard McCarthy), Sandra's latest live-in boyfriend, are played entirely for laughs and, whilst the actors perform well enough, they would surely have benefited had Nikolai Foster helped them towards some deeper emotional truths in their roles.
Charlie Brooks works hardest and gets closest to a three-dimensional Sandra, but the brassy, over-bearing, over-sexed mother with a tough past, desperately working for a better future, can't quite carry the entire beating heart of the piece on her own able shoulders.
Colin Richmond's design has some nice touches (including the bed!). Ben Cracknell's lighting works well without getting in the way and George Dennis's sound makes full use of Mama Cass's marvellous voice.
At the final curtain, 90% of the house are on their feet, cheering and whooping. I'm not convinced this okay production comes close to earning this (but I'm clearly in a very small minority). All that aside, the affection the crowd have for Harvey's play is, in itself, a truly beautiful thing.
Reviewer: Martin Thomasson