Beauty and the Beast
Clare Allen
Georgian Theatre Royal
Georgian Theatre Royal, Richmond
–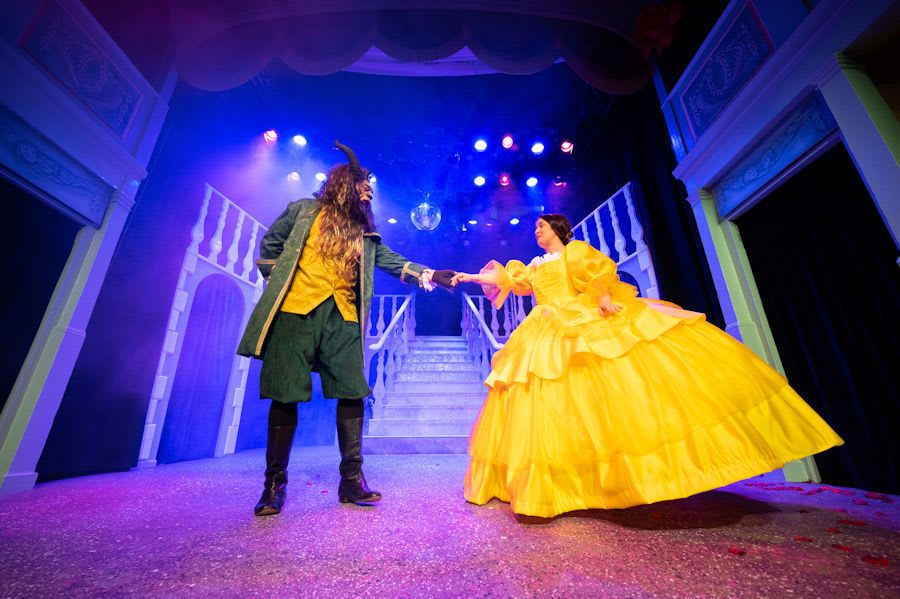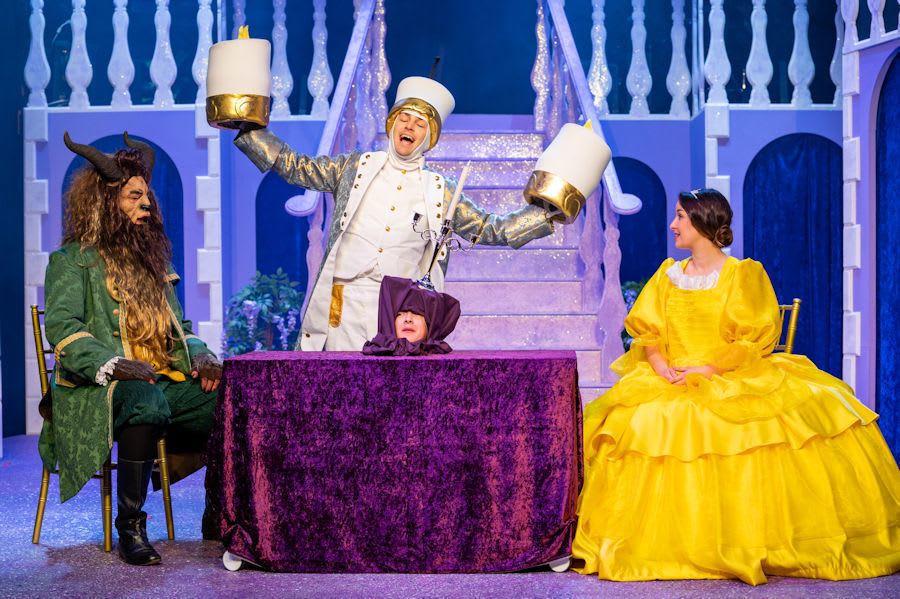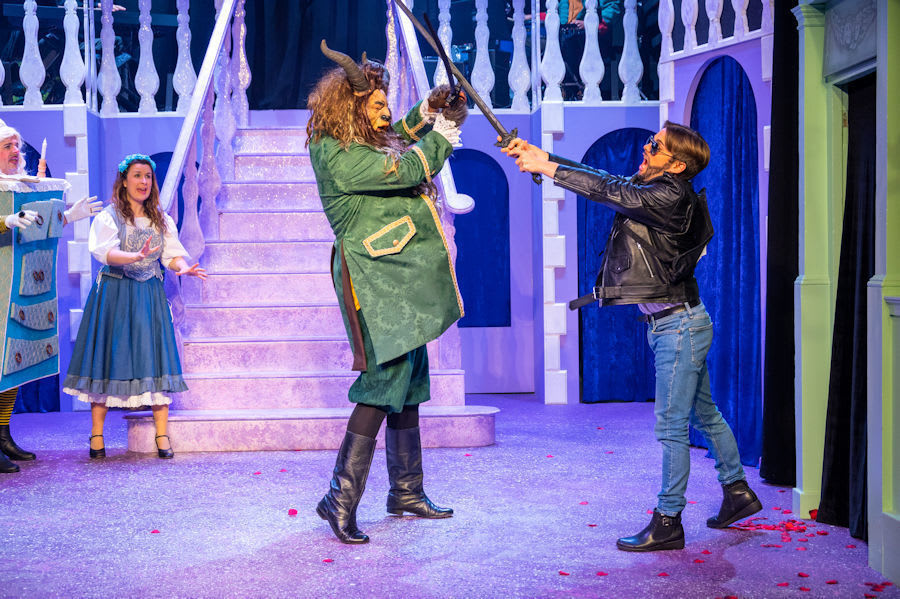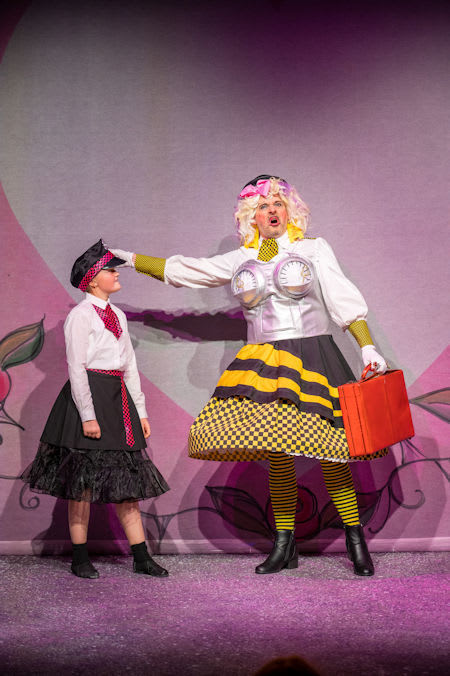 Snow was promised and that meant the A66 would close and I would never make it to Richmond, and when you've fallen in love with a building and the people who inhabit it, that's a disaster. I was a bit nervous; it's been such a long time since I walked through those glass doors into the foyer. You see, whilst the theatre has been pandemic-dark, there's been a rather official sounding 'Auditorium Development Project' involving new seating, repainting and lots of things behind the scenes.
Most importantly for the COVID worriers, air conditioning in the auditorium! Hamish Ogston's Foundation generously donated £375K towards the cost. And there's new very cheerful flowery carpet throughout, described by Paul Gilpin, the larger-than-life front of house manager, as Marmite. Thankfully, I happen to like Marmite!
I know, this is supposed to be a panto review! I just need to tell you that the Georgian figures painted on the theatre walls are fabulous, done with immaculate care and authenticity, the 'decorating' (if you can call such artistry that) is incredible and don't forget to notice the clouds delicately recreated on the ceiling. Oh, and the seats—simple and really comfy. The theatre has now transcended from the most uncomfortable seats in the North East to somewhere you can rest your bum for a few hours before it goes totally numb. So, well done to the Chief Executive, Clare Allen, and the Trustees of the Georgian and everyone involved in the refurbishment—you did GREAT!
And so, to Minnie Van Clamper, the dozy dame (aka Nick O'Connor) who opens the production wearing two parking meters on his chest and a rather fetching yellow and black costume. It's the first Parking Inspector dame I've ever seen; I suppose it's a sign of our times. We've seen O'Connor before, most notably as the delightfully unhinged evil fairy Maleficent in Sleeping Beauty.
After a brief sojourn in a mock-up of the streets of Richmond and a well-choreographed, slick rendition of Joni Mitchell's "Big Yellow Taxi"...
How apt for the times are those lyrics?
"Don't it always seem to go
That you don't know what you got 'til it's gone
They paved paradise and put up a parking lot."
…O'Connor did a "Guess Who?" game, loads of standard panto jokes, lots of parking jokes, Rishi Sunak jokes…
Phew! He was on stage in front of the curtain for almost 30 minutes, so long I wondered if the paint was not yet dry on the scene change. He's a hard act to follow.
As a new face playing Dame, it took me a while to plug in to his rather unique style, but when the acting eventually got going, I really warmed to him—he got more and more watchable as time went on. However, I did feel that almost half an hour straight stand-up comedy got in the way of the storyline in the first half, but once it all got going the auditorium was filled with laughter and the stage ironically full of hearts… Awww bless…
Lucy Carne gave us the sweetest performance as the dame's long-suffering daughter, Belle Van Clamper. Of course, she's also set to fall in love with the beast which she achieved with much added humour—her yellow dress at the end is a total masterclass of sewing.
Time for a well-earned mentioned to Kim McDermottroe, listed in the programme as the Principal Costume Designer, whose costumes are beautifully imagined and made to a very high standard indeed. One of her claims to fame is "wardrobe duties for Tom Jones"; who I think would be very impressed at her workmanship, especially for Alex Moran's three Cogsworth / Lumière / Ridgeley costumes that are absolutely fab.
Moran's characters and performances too are so individual and charming, his clock is really a joy to watch (pun overstatement).
I enjoyed Marcus Jones's energetic rendition of the baddie, Councillor George Gaston. His dance moves are quite sophisticated and along with The Georgian Theatre's Young Company, he produced a very neat West-Side-Story-inspired dance piece with fab choreography from Jordan Hamilton-Leighton.
Indeed, Hamilton-Leighton's choreography was noteworthy throughout the production, he certainly helped the Young Company produce something really quite exquisite.
Just before the interval, the silliness began with a brilliant rendition of "The 12 Days of Christmas".
The Beast had a large water pistol gun for the 5th day that he fired, not so randomly, over the top of the audience right into The Shakespeare box, where I was sitting. Every time the song went round. Seven times water-pistol-wet. But my enthusiasm was not dampened!
Ben Andrew's Beast is good; a bit overshadowed by his rendition of the fabulous leg-twitching Prince Dave who made me laugh every time he came on stage. I would however like to advise that, in my humble opinion, Andrew does need to go on a refresher (groan!) course to improve his water-pistol skills.
Musicians Alastair James (Busker) and Daniel Bowater (musical director) are a perfect foil to the action. Tony Wilcock's lighting is fab, as is Foxton's set design and the whole modern Variety Theatre theme is maintained throughout.
This production feels like the company is aiming for something different, something to celebrate local and national; modern yet historical. Something without the slapstick, mayhem, and chaos that we've come to expect from the Georgian Theatre Royal. Something story-led and as individual and unique as the building itself.
Beauty and the Beast—a metaphor of our times, of Richmond Town, its castle, its people, and its most delightful little theatre doing its own thing!
What's not to like?
Reviewer: Helen Brown