Beauty and the Beast
Paul Holman Associates
Broadway Theatre, Catford
(2010)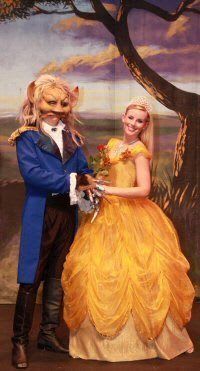 There's no shortage of beauties and beasts this festive season and the Broadway Theatre Catford is contributing to the apparent glut with its own interpretation of this fable.
As is almost always the case with pantomimes, the story has been adapted to include pantomime traditions and the cast mustered to play it. In this production the role of the witch has been expanded to full blown baddie, the Dame appears in the role of cook to Beauty and her inventor father, Professor Crackpot, and Beauty's would–be suitor, Gaston, all brawn and no brain in the Disney film, is one half of a comedy duo. There is of course the pretty leading lady and dashing prince, with a support ensemble of professional performers and local children.
It all seems fine on the surface but this production has all the polish of a show designed with the Ready Steady Cook concept of assembly: a thing hurriedly put together with whatever was available at the time, albeit with some good ingredients. Don't get me wrong, I have no issue with things having to fit a budget and accommodate time constraints but why shouldn't pantomime involve some craft?
In Maurice Thorogood's adaptation (he also directs) the total is less than the sum of its parts. The writing is more tawdry than just down to earth, with the Witch's opening of "Zip it, you cretins", easy target jokes about fat people and old women peeing in swimming pools, and Gaston being such a "minger". The nearest we get to a slop scene is Gaston and Pierre spitting water at each other and corpsing a very great deal.
At nearly three hours it provides good value on a pound per hour basis but its length overstretches the material available, with the Beauty and Beast love story being concluded early in the second act leaving the remainder to be entirely composed of padding. There are some very funny moments that have the audience in stitches, and catchy tunes such as Queen's "Another One Bites the Dust" and The Proclaimers' "I'm Gonna Be (500 Miles)" get the audience clapping and "Da Da Da – Da Da Da"–ing along, but this is icing on a cake the sponge of which we don't want to eat.
Comedy double act, Francis and Wheatley (Jason Francis and Neil Wheatley) shout exhaustingly and corpse tiresomely but provide a good deal of the comedy (some of the kind that is unworthy of their evident talent and some genuinely funny). Veteran Dame Keith 'Appy Hopkins is all big frocks and fun and got one of the biggest laughs when one of Dame Kitty's inflated boobs popped unexpectedly.
Michelle Gayle, previously of EastEnders and the 1990s pop world, tops the bill as the Witch and gets to sing "Poker Face" which goes down well but Ben Palmer as Beast gives the best vocal performances not least with "Till I Hear You Sing" from Love Never Dies.
This is a marathon of a show in which are collected all the key panto elements; it is however like the occasional meal made by throwing everything in the saucepan and turning on the heat: it would be better with some bits left on the chopping board.
"Beauty and the Beast" runs until 3rd January
Reviewer: Sandra Giorgetti