Beauty of the Father
Nilo Cruz
Manhattan Theatre Club, NYC, Center Stage 2
(2005)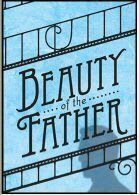 We are all familiar with the love triangle but in Beauty of the Father Nilo Cruz introduces an unrequited love pentangle crossing two generations and the ghost of Federico Garcia Lorca.
Cruz is best known as the first Latino winner of the Pulitzer Drama Prize for Anna in the Tropics, another play about hopeless yearning for love, with literary undertones.
The amazingly expressive Elizabeth Rodriguez, who is soon to star in the new Miami Vice movie, plays Marina, a Hispanic American who mourns her recently dead mother. After ten years of silence, her artist father, Emiliano (Ritchie Coster) invites her to visit him in Granada in Spain, with the romantic idea that she might remain there with him.
His household is strange to say the least. His apparent partner is Paquita, played by Priscilla Lopez (who was also in Anna in the Tropics). However, she is in a marriage of convenience with young Moroccan, Pedro Pascal's Karim, who is also Emiliano's catamite and, in no time, Marina's would-be lover.
This all has the soap opera power to confuse with complicated relationships. However, no soap would introduce the suave white-suited ghost of Spain's greatest playwright, about to celebrate his centenary. Oscar Isaac manages to look uncannily like the poet and dramatist, while acting as a sounding board for the unhappy artist in his search for love.
This odd group rarely achieves happiness other than from artificial sources. The youngsters have an ecstasy-fuelled evening while Paquita prefers the bottle, allowing Priscilla Lopez, who reaches her peak as her character gets drunker, to demonstrate a stylish flamenco (using her own childhood castanets). Emiliano's poison is the potent combination of melancholy and his imaginary friend.
As an eclipse darkens the sky, the putative love affairs very quickly give way to sulks and tears, with a not entirely convincing showdown between the two (live) men, as all realise that they can never get what they want, even if they really know what that is.
Michael Greif, who directed Rent, is supported by a strong cast and a simple but picturesque design from Mark Wendland, best known in London for Death of a Salesman. This is beautifully lit by James F. Ingalls who loves using bold colour to great effect.
Nilo Cruz writes poetic plays that explore love amongst exiles who never seem fully rooted. With his strong, memorable women, quirky plotting and literary leanings he will always challenge and entertain.
This review covers one of a large number of preview performances, fully two weeks prior to opening and therefore it is possible that changes might be made before the final version is reached.
Reviewer: Philip Fisher