Bedroom Farce
Alan Ayckbourn
Oldham Coliseum and Harrogate Theatre
Oldham Coliseum Theatre
–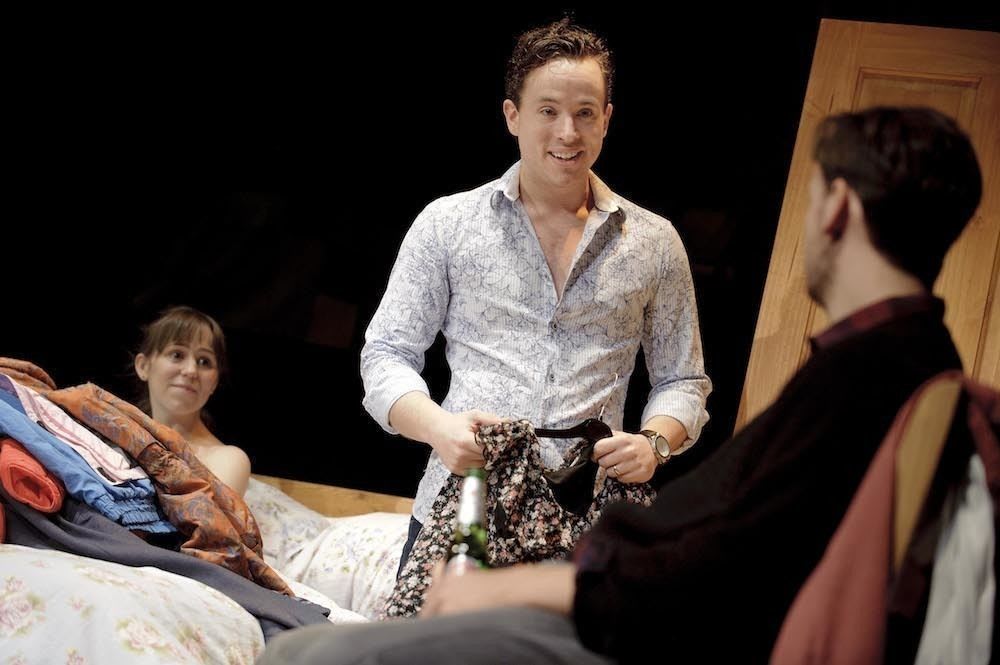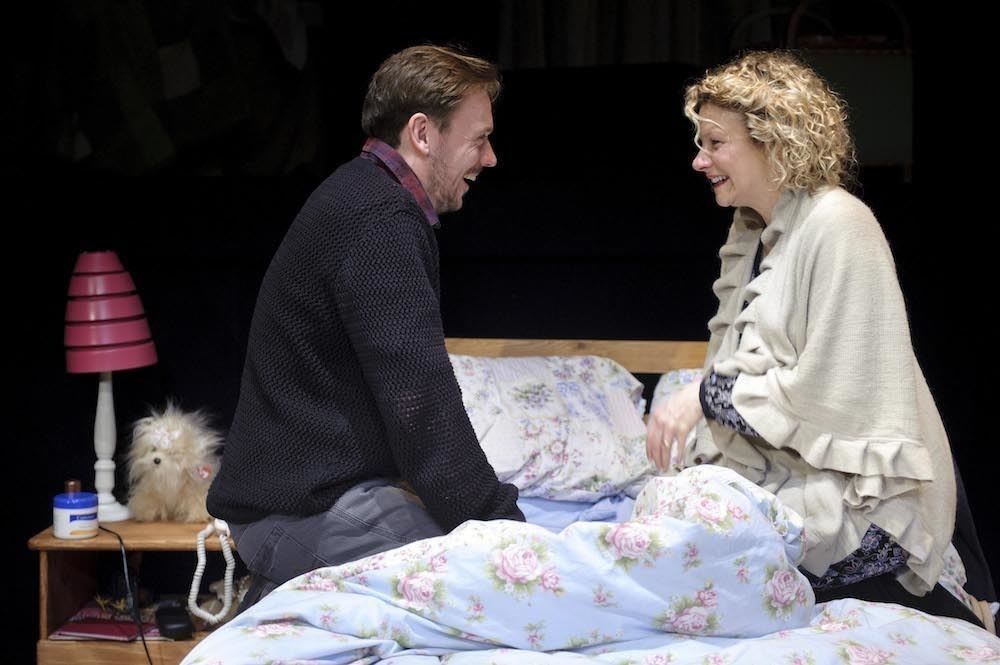 After last year's relatively obscure choice of Sugar Daddies—not one of the playwright's best works—the Coliseum again pairs up with Harrogate Theatre and returns to the prolific Alan Ayckbourn with his better-known 1975 work Bedroom Farce.
Always one to experiment with form, Ayckbourn certainly gives us the bedroom of the title—three, in fact, all visible on stage at once—but this is far from being a true farce in structure, although there are times when it becomes farce-like for a short while. The programme states that it is set "some twenty years ago" to avoid any problems that the mobile 'phone would cause, or even solve, but this is still some twenty years later than it was written.
The play has the complicated plot of a sex comedy, with Trevor (Antony Eden) at the heart of every couple's story, apparently unaware of the chaos he leaves in his wake. Trevor's parents, Ernest (Christopher Wilkinson) and Delia (Lynette Edwards), are dressing to go for a meal to celebrate their anniversary. Nick (Robin Simpson) is laid-up in bed with a back injury while his wife Jan (Maeve Larkin), an ex-girlfriend of Trevor, gets ready to go to Kate (Catherine Kinsella) and Malcolm's (Henry Devas) house-warming party.
This final couple is still in the happy and carefree stage of love, playing practical jokes on one another, although Kate is a little concerned about Malcolm's fumbled but enthusiastic attempts at DIY. Selfish Trevor's tempestuous relationship with neurotic Susannah (Laura Doddington) destroys the party and threatens to destroy at least two other relationships.
It's a touching study of three relationships at different stages from the first flush of love to comfortable companionship with a bit of suspicion, irritation and jealousy in the middle. Other than Susannah, it is the women who are the sensible ones who find ways around the problems and the men who childishly stamp their feet about not getting their own way.
Designer Michael Holt has managed to squeeze the three bedrooms onto the Coliseum's stage—he's managed it, but it does look a bit of a squeeze. The design of Ernest and Delia's room does appear a little tacky for this upper middle class couple who dress formally for dinner in a restaurant, whereas Kate and Malcolm's room perhaps looks a little too neat.
Robin Herford's production isn't perfect but is very good, getting across a lot of the comedy with a good cast. There are moments that could be made more of, but on the whole it works well. Unusually for a comedy, I think that some of it could afford to be a bit slower, particularly the scenes between Delia and Ernest, which may make their relationship more touching and provide a nice contrast with the more frantic moments.
But on the whole the Coliseum looks to have another hit on its hands. This little Oldham theatre appears to be on a roll at the moment. Long may it continue.
Reviewer: David Chadderton