Sugar Daddies
Alan Ayckbourn
Oldham Coliseum Theatre and Harrogate theatre
Oldham Coliseum Theatre
–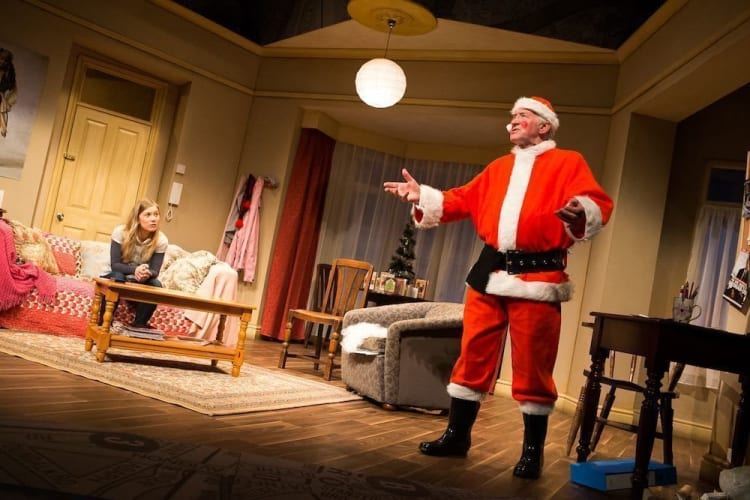 The Coliseum has teamed up with Harrogate Theatre—who saw it first—to revive Alan Ayckbourn's 63rd play (he's now on 77) Sugar Daddies, originally produced in 2003 but not one of his more well-known titles.
The old-fashioned red velvet curtain opens on a set that seems to be familiar old-fashioned Ayckbourn territory, but not quite. We are in a box set (designed by Michael Holt) of a reasonably spacious living room of a flat in London, but it resembles a student flat more than a middle class apartment.
The student at the heart of this story is Sasha, a young innocent from the country (King's Lynn) who has moved to the big city to study catering and is living with her more sophisticated but neurotic half-sister Chloe, who works as a TV researcher. Sasha helps an old man dressed as Santa who was nearly knocked down by a car and, to her sister's horror, takes him back to their flat to wait for his nephew.
The man, "Uncle" Val, becomes the sugar daddy of the title, sending Sasha flowers, taking her to the opera and for meals out and getting the many women in London who appear keen to do him favours to give her discounts on the best clothes.
Then Ashley, of similar age to Val, moves into the flat downstairs, and it is clear that the two men have a history. Each claims that he is an ex-policeman from the Metropolitan Police Serious Crimes Squad and that the other is lying.
It's an interesting if fairly slight story that feels stretched to cover the running time of the play. There are some great Ayckbourn lines and situations, but some scenes dwell on a particular theme long after we've got the idea and wish to move on. When one of the men shows his true colours and loses his temper, he doesn't come across as a man used to frightening people into doing what he tells them, and it's difficult to tell whether it is the writing or the production that fails to convince.
But Ayckbourn is a skilful writer and he keeps it always entertaining, even if some of the darker moments seem a bit forced.
Robin Herford's production allows everything to unfold at a very natural pace and the humour is put across very well by the five-strong cast, although there were a few more line fluffs on opening night than you would expect from a production that has already had a full run elsewhere. Central to this is a very impressive performance from young actress Sarah Vezmar as Sasha, who rarely leaves the stage. Maeve Larkin is irritatingly wonderful as neurotic Chloe with boyfriend trouble and a blunt manner that doesn't take account of—or perhaps recognise the existence of—the feelings of others.
Christopher Wilkinson gives a warm interpretation of Ashley with some lovely comic touches, Paul Webster comes across as every bit the loveable old sugar daddy and Heather Phoenix appears in just one scene but makes a big impression as loud, down-to-earth "design consultant" Charmaine.
This isn't classic Ayckbourn by any means and it does feel by the end as though the theme and story aren't substantial enough to sustain a whole play, with hints at some much darker country beyond what we see that is never really explored. However it is funny and entertaining and pretty well realised by this production.
Reviewer: David Chadderton