Bedroom Farce
Alan Ayckbourn
Duke of York's Theatre
(2010)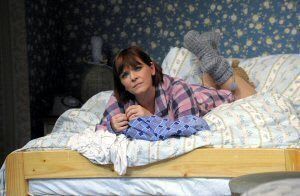 It is Ayckbourn week. Sir Alan is prolific but even so, even he may be a little surprised to see revivals of two of his farces from the 1970s re-opening in London within a few days of each other.
Where Taking Steps at the Orange Tree was designed to provoke laughter from start to finish, Bedroom Farce is a little more traditional, setting up the comedy before the interval with the intention of socking it to the audience in the second half.
The settings are similar, this time around designer Simon Higlett sets up three bedrooms side by side on the night of a party that is destined to be a disaster.
Stage right room belongs to Ernest and Delia, archetypes of middle class and middle aged respectability, he boring, she dominating, played with appropriate haughty dignity by David Horovitch and Jenny Seagrove.
Appropriately in the centre of the stage and the action is the room belonging to happily married party hosts, Finty Williams' generous Kate and Malcolm, that comedy staple - a DIY disaster, played by Daniel Betts.
Completing the set are Sara Crowe as Jan and, playing bedbound Nick, Tony Garner who is the star of the show as his bad back gives opportunities for a number of very funny physical gags.
The jokers in the pack are Orlando Seale and the particularly convincing Rachel Pickup, taking the roles of the catalysts for all of the night's dramas, hopeless Trevor and suicidal Susannah.
They are a mismatched pair of manic depressives who, for just over two hours, effortlessly wreck the lives of all around with the grim determination of the self-obsessed.
The unhappy couple end the party early on but that is just the start of the fun as their mutual agonising and attempts to make up last through a long night.
The set-up shows us their problems through the eyes first of their hosts, then Trevor's parents Ernest and Delia, and finally his old flame Jan and the long-suffering Nick but with many swift jump cuts between bedrooms.
Sir Alan Ayckbourn's idea is to use the farce format to shine a spotlight on love, sex and marriage among the middle classes, rather like Mike Leigh in Abigail's Party or himself on so many occasions.
Strangely, this element is more successful than the comedy, which has its moments but cannot compete with its precocious sister play at the Orange Tree.
By the end though, with everyone onstage exhausted, the possibility of the octet living happily ever after becomes an option and the audience will leave the theatre having had a good time watching Sir Peter Hall's transfer from the Rose in Kingston.
John Thaxter reviewed this production when it premiered at Kingston
Visit our sponsor 1st 4 London Theatre to book tickets for Bedroom Farce
Reviewer: Philip Fisher