Bed and Sofa
A Silent Movie Musical
Music by Polly Pen, libretto by Laurence Klavan, based on the 1927 film by Abram Room
Finborough Theatre
(2011)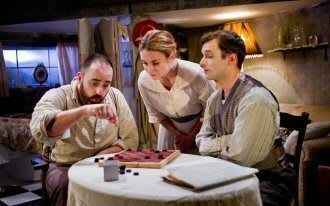 I was dreading the European premiere of this cult 1996 American chamber musical trailing rapturous reviews, an Obie Award for Polly Pen, and seven Drama Desk nominations, two for libretto. Versions can be tricky.
But, whether you are a fan of Soviet satire and Soviet films of the 1920s or not matters not a bit to delight in Polly Pen and Laurence Klavan's faithful but oh so witty rendering of Abram Room's 1927 silent movie Tret'ya Meshchanskaya (alternative English title Bed and Sofa), attacked in Russia as an 'apology for adultery' and rejected by the British censor because of its scandalous ménage à trois and abortion clinic.
Done with sentimental affection and crisp timing, Bed and Sofa is a droll social comedy, its liberated morals very modern French maybe? No, it is not Jules et Jim. More Billy Wilder, Woody Allen in his Greek Chorus phase, Mel Brooks (he did adapt Ilf and Petrov's 1928 slapstick satire The Twelve Chairs), and Sondheim. 'Big and complicated' life may be, but this is not.
Two-way traffic between USSR and USA: it was ever thus. Hollywood silent movies, especially Chaplin and Mary Pickford's, found favour in the East, where there are rich pickings to be had in that wonderfully experimental zany small window of a period, the post-revolution NEP period, before Stalin's ('shh, shh Stalin') heavy fist put a stop to it.
The Pen / Klavan Silent Movie Musical makes this reciprocal traffic evident as they follow in a well-established tradition, antennae and sensibilities alert to nuance. Her music (for violin, viola, cello, and piano/conductor) has Russian harmonies, his book and libretto gently mock faux Trotsky, Stalin and Marxist texts, delivered by Penelope Keith's voiceover announcer (commentator surely) in exquisitely sardonic tones.
1926 in housing shortage Moscow, poor bored housewife Ludmilla lives with a boor of a husband, Bolshoi building foreman Kolya, in a cramped one room flat, when old war buddy Volodya turns up. Kolya offers him the sofa, and a dressing screen.
Ludmilla is not overly pleased, but when Kolya is called away on a business trip for a few weeks, the dreamy Ludmilla is suddenly swept away by the attention of the one with 'blonde hair and a sensitive face'. He takes her to the movies, and moves into her bed.
'Her majesty the husband' returns, leaves, but has to come back as there is nowhere to live. He settles for the sofa. In the end both men turn out to be insensitive boors, too fond of bonding over games of checkers than paying the little woman attention. She takes the bed, Volodya the sofa, and Kostya the rocking chair.
She is pregnant, but both men insist on an abortion as they will not bring up another man's child. Out of the clinic window she sees a child playing with a Stalin doll (joke not in the original, as far as I remember, but a funny touch), and takes matters into her own hands. She leaves her husbands, who are not fit for purpose, and takes off on the train to independence. The train is a toy train that runs across the mantle shelf.
The set is fabulous in its realism, replicated almost exactly, with its Stalin calendar and her photo on the wall. David Woodhead has squeezed in all the furniture and the Bolshoi pediment, above which sit the stalwart musicians (hot up there) and Kolya having his lunch. Bulgakov's Professor Woland must have taken over the Finborough, for how else to explain that all fits with room to spare for an audience. Where there's a will
Or maybe Finborough Theatre has borrowed some Quadraturin from Sigizmund Krzhizhanovsky's 1926 eponymous absurdist short story about magically expanding space. Moscow's post revolution / post civil war housing shortage and restricted communal living fed many a writer's mordant wit.
And, as kind coincidence would have it, the BFI are showing the original film in their May programme as part of their Kino: Russian Film Pioneers season, so you can see what all the fuss is about. Incidentally the actress in the film bears a remarkable resemblance to Lilya Brik, part of another ménage à trois with husband Osip and poet Mayakovsky.
Silent ('not another word') movie captions are vocalised; stage directions and set description are sung through; objects take on a life; the dressing screen is addressed. In pale commedia dell'arte faces and stylised movements the performers negotiate the tiny space deftly (credit to movement director Lucy Cullingford). The scene at the movies was so focused I couldn't resist turning my head in case more magic was taking place behind me. But the magic was in front of me.
It is impossible to take one's eyes off Kaisa Hammarlund - her performance and singing are captivating, commanding. Alastair Brookshaw's sweet-voiced Volodya resembles the actor in the original, and Alastair Parker's Kolya is a soft baritone bear of man.
A shower of five stars for all: the performers, the creative team, and especially to Luke Sheppard, who directs with a fine-tuned sensitivity and an excellence that belies his years. Very impressive: if the run doesn't sell out, I'll eat my shapka.
Till 23rd April 2011
Reviewer: Vera Liber