Beetlejuice
Music and Lyrics by Eddie Perfect, Book by Scott Brown and Anthony King
Winter Garden, New York
–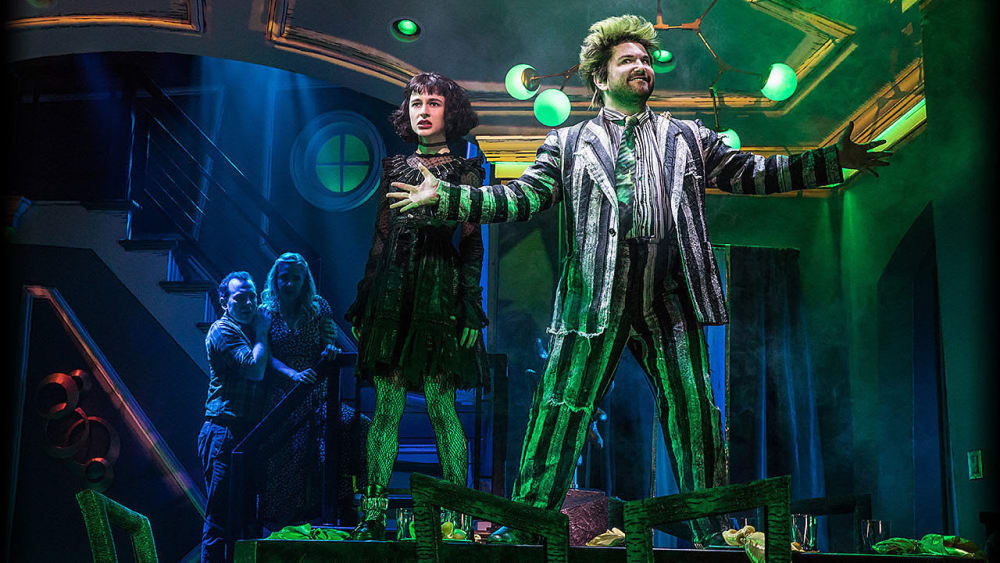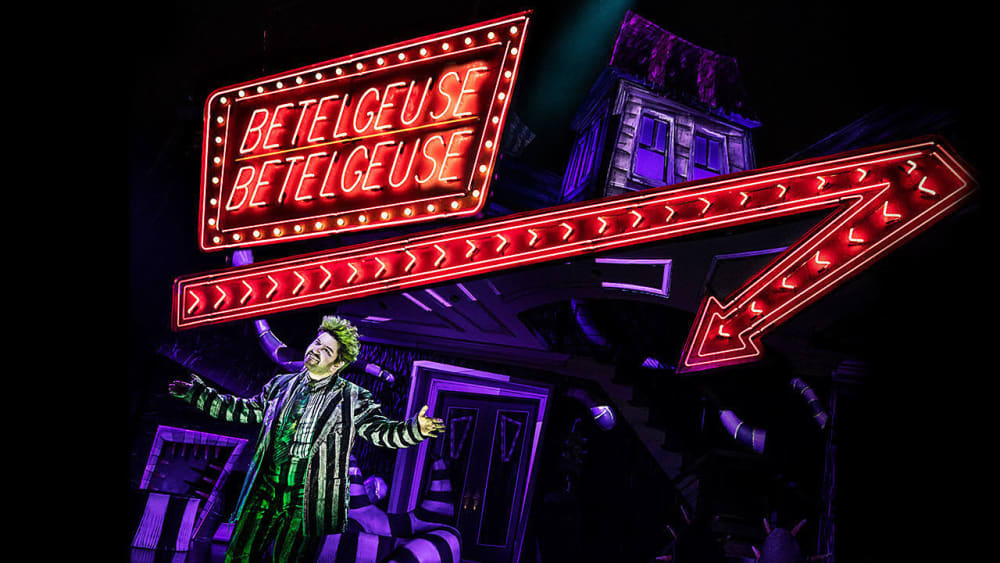 Fans will have fond memories of Michael Keaton playing the title role opposite Winona Ryder in the Tim Burton cult movie of Beetlejuice and should find similar attractions in the musical version.
In the opening scenes, it would be easy to assume that this is going to be the Alex Brightman show. Taking the title role, the friendly actor opens by introducing the main storylines and singing the very witty "The Whole 'Being Dead' Thing".
However, as the 2¼-hour evening unfolds, it becomes apparent that the compelling Brightman is not going to have things all his own way.
His opening gambit is to entice the new owners of a haunted house, that combines an El Greco exterior with a kitschy interior, into meeting an early end.
Drippy Adam and enthusiastic Barbara, David Josefsberg and Kerry Butler respectively, are then enlisted to the cause by their sly host.
Dressed in the iconic grubby striped suit with green-tinted beard, the ghost who wants to return from Limbo then finds a leading lady to be reckoned with in teenage Lydia.
Following the death of her much-loved mother, the young Goth isn't far from suicidal as she watches Adam Dannheiser, portraying her father, playing around with dippy Delia, Leslie Rodriguez Kritzer.
What follows is a brave, Orphean quest that contains plenty of thrills and spills, not to mention some good songs.
For the most part, the best of these end up in the powerful tonsils of Sofia Anne Caruso, who dominates the stage in the role of Lydia and gives Brightman a good run for his money. In particular, each time that she blasts out "Dead Mom", the lady with a famous singing name will win the hearts of everyone in the theatre.
However, the musical and comedic highlights spread beyond the central duo, involving almost the whole cast as they await an unlikely wedding while singing "Creepy Dead Guy".
Director Alex Timbers and the design team have worked hard on the spectacle, which features superb lighting effects, gigantic puppets and some pretty eerie projections, along with contrasting always colourful incarnations of the haunted house itself.
While there is some tremendous comedy and great entertainment value to accompany strong performances, there are a few dead moments (pun intended), which suggests that a production that is already proving popular might have been sharper with a little pruning.
Even so, having broken box office records over the holiday season, it looks as if Beetlejuice will sell well at the Winter Garden until the middle of the year when it makes way for The Music Man. The big question is whether it then has the legs to transfer to a new home.
Reviewer: Philip Fisher