Beheld & Set and Reset/Reset
Choreography Alexander Whitley, Trisha Brown
Candoco Dance Company
Sadler's Wells
–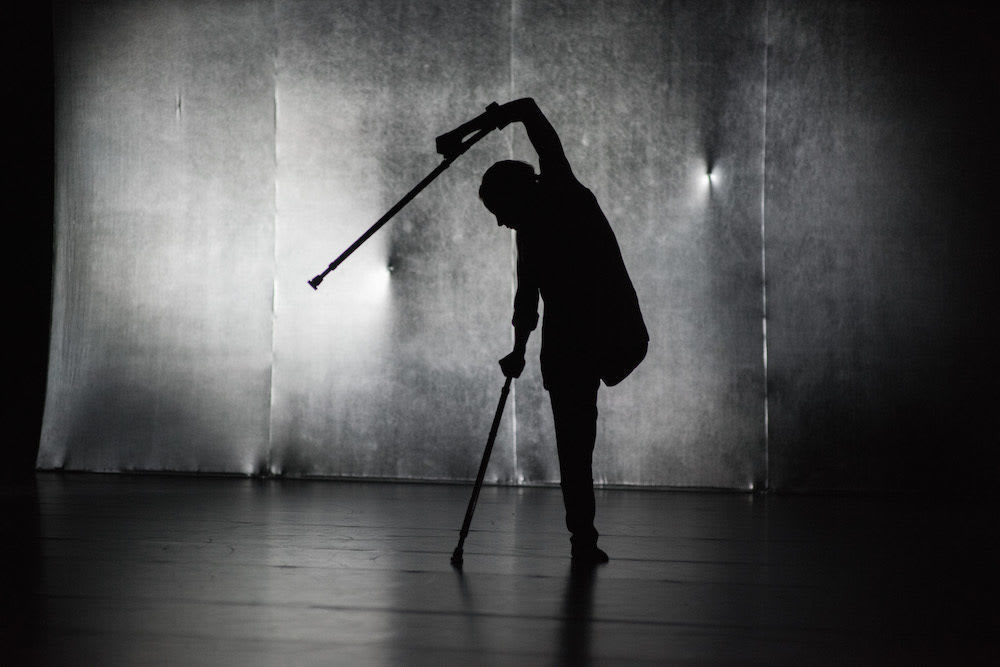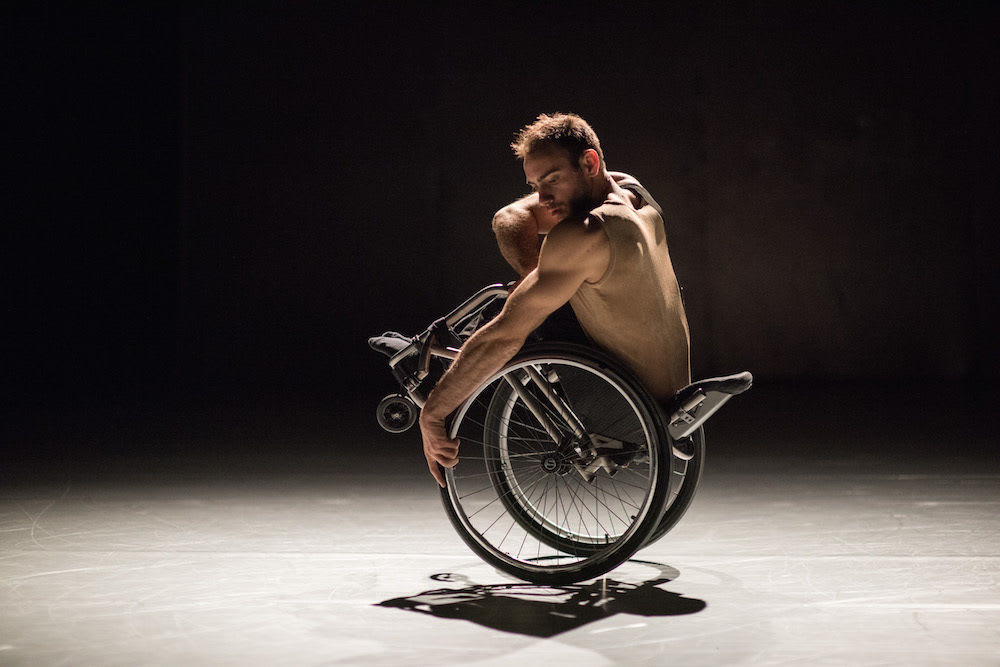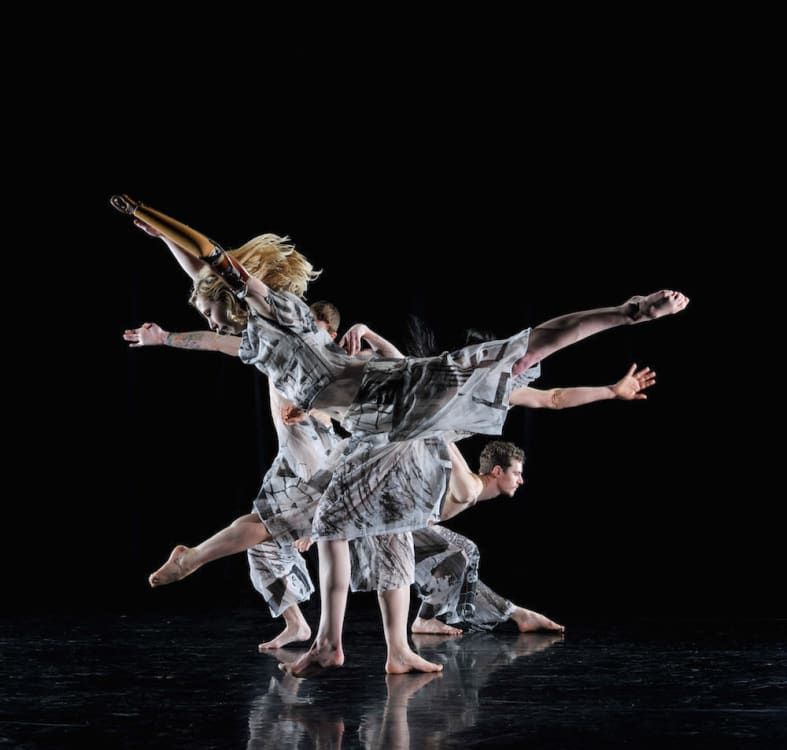 Hard to believe, but Candoco is celebrating twenty-five years as the foremost inclusive dance company in the UK (with an international cast)—how time flies, and how they fly, spin and tilt in this short but intense double bill.
These two, approximately half-hour each, studies of space, time and musical flow leave me greedily wanting a dessert—perhaps a third short piece would have made it an even more satisfying evening. But, "explore the possibilities" of dance the programme handout sheet states—that they most certainly do.
Alexander Whitley's—classically trained dancer and Sadler's Wells New Wave Associate— Beheld, choreographed only a year ago for Trinity Laban, demands much of its seven dancers. Geometric, acrobatic, with a studied sense of theatricality, Jackie Shemesh's lighting, Jean-Marc Puissant's design part of an enthralling whole.
Nils Frahm's electronic ambient score, reworked by Rutger Zuydervelt, shimmers with expectancy. Out of the gloom come the Olympian champions—light strikes the rims of Joel Brown's wheelchair—a proud picture. And then they're off, playing with visibility and invisibility—a black cloth stretched and folded is a simple prop, a canvas of shadows and screens.
Whitley plays with symmetry and stillness, pauses are held long, the more to illustrate dexterity and speed, on wheels, on crutches and feet. Tall lanky Toke Broni Strandby reminds me of a young Wayne McGregor. The discrepancies in size and height incorporate naturally as in daily life—but Beheld is stunningly plotted.
Brown is an Atlas holding his chair like a globe in the air, a Paolozzi Newton in repose; with Tanja Erhart, he runs clever rings around the others. Duets, trios swiftly group and regroup, intersect and diverge.
Erhart, out of her chair, comes into her own on slim black crutches, a silhouette against a steel grey taut stretchy backcloth that plays tricks with perception—it is both her shadow doppelganger, support and a mercury pool that swallows her up.
In my mind's eye her solo recalls both the magical animated fairytales of Lotte Reiniger and the sci-fi of Close Encounters Of the Third Kind. Mysterious pinpricks of light move across the silver cloth constellation, she is a perfect body at one with them.
Then blackness—what do we see, what do we hear? The black cloth now twisted in skeins, into cat's cradles, harnesses, boxing ring containment, impediments—the stage expands. Are we in an Ancient Greek gymnasium? Is this their workout?
After the workout the fun—the black cloth billows into a huge sheet, a bedroom playroom—remember running under it when your mother was making the bed… jumping up to reach it, tangling in its canopy…
Set and Reset/Reset (2016) is a reconstruction, a restaging by Abigail Yager, of Trisha Brown's famous signature 1983 piece to Laurie Anderson's metronomic music of great tempo and text, and Robert Rauschenberg's textile design. Celeste Dandeker-Arnold and David Lock have based their sheer gauzy costumes and set in shades of grey on Rauschenberg's original.
Triangle patterns on the clothes and cloth, patterns on the wall—lighting by Chahine Yavroyan—men in bare torsos. Vibrations of sound travel through the body. Keep up, leap and stretch to the beat, no concessions. This is fun and funky and fast, the beat propulsive, compulsive, contagious.
Costumes flow in the slipstream of the dancers' freeform movements. Tropical jungle sounds accompany them. Liberating dance, doing their own thing, entranced in trance, a dance installation, a club gig. Brown balances his chair on its edge, holds the pose. And repeat and repeat, set and reset. Arms windmill, dancers gambol and scribble shapes on the floor, exuberant and free.
The reception is loud and positive. I tell my twelve-year-old companion it's called a standing ovation. An experiment, an education, I wonder whether the evening would suit, too academic, but he loves it.
Reviewer: Vera Liber