Being Sellers
Carl Caulfield
Waterloo East Theatre
(2010)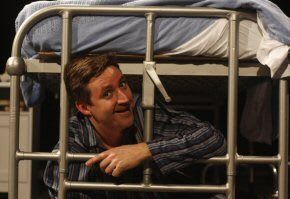 New kid on the block (the venue opened in September), Waterloo East Theatre have a revival of Carl Caulfield's 1998 play about Peter Sellers to mark thirty years since the actor's death.
Sellers was a strange creature: an international star, heralded as a comic genius and yet reliant on drugs and alcohol, full of insecurities and superstitions, in many ways predestined for self-destruction. In Being Sellers we find the actor in hospital having had a massive heart attack; as he teeters on the outset of his next big journey he takes a reckoning of the one just completed. For anyone not familiar with the private life of Sellers, it is very revealing.
As if he seeks to resolve his own self professed dilemma - "If you ask me to play myself, I will not know what to do. I do not know who or what I am" - Sellers revisits a myriad milestones in his life, led on by the spirit of his obsessive mother with whom he communicated after death through séances. But a creative ego rarely gets clear answers to this sort of soul-seeking. Some explanations as to the cause of his troubled mind and life are more obvious than others. In this regard a childhood spent as a performer with his family on the variety circuit, living in dingy digs and enduring short-lived friendships between bookings is one. A stentorian Catholic education conflicting with a Protestant-Jewish parentage also stands out.
But the man was more complex than his early background suggests, even if one considers the pill popping and the booze, the reliance on occult guidance and so on as a bare-faced denial of one's responsibilities or judges him less harshly, perhaps in the light of his comic genius.
Being Sellers concertinas 54 years of life into an hour. It reminds us of the many and varied roles he played, reflecting the man's skill of slipping effortlessly between characters and his technique of inhabiting his characters completely, sometimes even off set.
The writing is very detailed and a careful listener will come away knowing a multitude of facts about Sellers' life and career, and this poignant piece serves as a reminder of what an extraordinary array of talents Sellers had and the price he and those around him had to pay. He said of himself that he was only funny when he was working and although there is as much comedy as tragedy in Being Sellers he comes across as unlikeable - what remains memorable is his disagreeable side - the assault on wife Britt Ekland (number two of four), disinheriting his children, his self-obsession and lack of control.
David Boyle gives an energetic performance as "the man of many voices" and, even though his greatest strength is not his impersonations, he gives a good account of Sellers being Churchill, Groucho Marx, Harry Secombe and others as well as Sellers' many film characters. Most importantly he captures something of this elusive man and engenders some much needed empathy.
Directed by Simon Green Being Sellers becomes very physical for a play with a lot of words delivered at speed; the result is quite absorbing. In this intimate space we get a palpable sense of the chaos behind Sellers' screen personae and the relief of it ending as he joins the audience to be a spectator.
"Being Sellers" plays Tuesday to Saturday with Saturday and Sunday matinées. Running time is 60 minutes with no interval. The play runs until 19th November.
Reviewer: Sandra Giorgetti