Belfast Blues
Written and performed by Geraldine Hughes
Soho Theatre
(2004)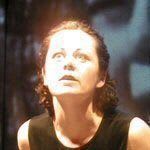 It is one of those writers' maxims that a first work should be an autobiographical depiction of the writer's childhood. If one is tempted to groan on learning that this is precisely what Belfast Blues is about, this just heightens the delight in store.
Like the hero of Midnight's Children, Geraldine Hughes was born at an apocalyptic moment in the history of her country. In her case, she was born with The Troubles which broke out in 1969 and are still with us today.
Her childhood was anything but normal. Until she was born, the fifth child of six, the family huddled together in a single bedroom with only a blanket for privacy.
The pleasure of being offered a four-bedroom home was short-lived as in the 1970s, Divis Flats was like an inner circle of hell. Death was a constant companion, as were the IRA and the soldiers.
Growing up in a poor Catholic family with anything but fun and was only lightened by a rich variety of people that the little girl met. Geraldine Hughes is an excellent character actress and this is of vast assistance as she introduces us to family and friends, including the unforgettable constantly blinking Eddie and the terrifying next-door neighbour, Margaret.
Geraldine Hughes is one in a million. She managed an initial escape from Belfast by being cast as a child actress in an American film about The Troubles. While she spent the next few years denying that she wanted to be a film star, it is unlikely that even she believed it.
There are moments of great happiness but also a great sadness, particularly as the play draws to a close with the teenaged Geraldine whispering to her father's coffin that she is upping sticks for university in the United States.
She clearly prefers the new country, as Belfast Blues premiered to great success in Los Angeles, winning three awards. It should do equally well in London. It is to be hoped that it will then travel to Edinburgh as it would be a perfect Fringe show.
This show lives or dies on the writing and performance of Geraldine Hughes. However, her director Christine Harmer-Brown maintains great pace and the use of Belfast images, both film and photograph, sets the scene well.
Belfast Blues is both a happy and a tragic tale. It allows Geraldine Hughes to demonstrate that she is both a poignant writer with a wicked sense of humour and also a great solo performer.
Reviewer: Philip Fisher