Be Near Me
Ian McDiarmid, based on the novel by Andrew O'Hagan
National Theatre of Scotland
Donmar Warehouse
(2009)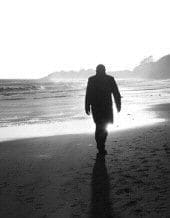 The latest production from the tremendous National Theatre of Scotland is set in Greeneland, though one wonders whether Graham Greene ever actually ventured to Kilmarnock, where the play opened prior to its London transfer.
In Be Near Me, it is Dalgarnock, a kind of mini-Glasgow of sectarian tension, where Father David, played by adapter Ian McDiarmid finds himself suffering a crisis of faith both in self-confidence and religion.
The emptiness of his life and that of a town where unemployment is the norm, following the closure of the mines and the factories, is symbolised by Peter McKintosh's stark, bare set. Even Davey Anderson's characteristic, jaunty songs cannot inject hope where none remains.
McDiarmid has created a truly moving work that is almost tragic in the classical sense, a concept that the cultured aesthete whom he plays would fully comprehend.
The posh, Anglo-Scottish Father David is touching 60 and has long known that his celibate life has never recovered from a loss in student days at Balliol, from which he failed to graduate.
The comic early scenes observe his attempts to commune with the community. They are first represented by his cultured but cancerous cook/cleaner, sensitively played by Blythe Duff.
More particularly though, he temporarily adopts and attempts to cultivate a couple of troublesome teens from the tough comprehensive at which he teaches when not tending to his drunken flock.
Richard Madden's aggressive Mark, though almost welded into his Celtic shirt is (street) wise beyond his years. His equally foul-mouthed girlfriend Lisa (played by Helen Mallon, who both sings and acts with fervour) is sexually precocious, wearing a skirt so short that it hardly deserves the name.
Thereby lies his downfall. Taking Mark and Lisa to a mosque and Ailsa Craig might be marginally acceptable but a drink and narcotic filled night out is one step too far and the priest, whose parish failed to understand him at the best of times, is instantly labelled as a "Peedo".
Remarkably, this is his making, as at long last the lonely man confronts his inner demons. If there is a question about the plotting, it is with regard to the way that everyone in the community then rallies around a man who would surely have been a fearful pariah with a new name and home.
However, that matters little, as one gets the chance to witness a deeply moving performance from McDiarmid, well supported by the whole cast of NTS regulars, many of whom play dual roles as well as singing.
McDiarmid's acting is enhanced by a delight in rolling words around in his mouth like the most expensive of vintages, clearly relishing language as much as his character, the son of a novelist (played by Colette O'Neill), does both words and fine wine.
This is a multi-layered 2½ hour long drama with intolerance, on both a personal and political scale as cultures collide, its primary subject.
The subject matter may not be easy but as so often with this company, particularly under the expert direction of John Tiffany, the delivery is exceptional and as a result, Be Near Me should not be missed.
David Chadderton reviewed this production on tour at The Lowry, Salford
Reviewer: Philip Fisher