Berlin Hanover Express
Ian Kennedy Martin
Hampstead Theatre
(2009)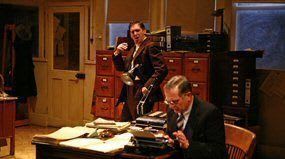 Ian Kennedy Martin is not the kind of man to let anything get in the way of what he sees as a good yarn. His name may not be very well known but the writer has enjoyed a distinguished television career that included devising The Sweeney and Juliet Bravo, as well as writing for The Onedin Line and Bergerac.
Only now, after many decades of screen success, has he embarked on a first stage work that demonstrates the massive gulf between the requirements of television viewers and theatre audiences.
This second play in the Golden Jubilee celebrations at Hampstead is packed with inconsistencies and anachronisms, not to mention wildly fluctuating character studies. This makes life difficult for the theatre's artistic director in the 1970s, Michael Rudman, and a cast led by Sean Campion, who does a fine job as timid, straight-laced Protestant bureaucrat Mallin.
This archetypal clerk is one half of the lightweight Irish legation in Berlin during 1942. He becomes the straight man in a kind of comedy double act, smouldering as the butt of numerous jokes spun out by Owen McDonnell's Catholic O'Kane, a joker with an inappropriately modern attitude and turn of phrase.
They are Anglophobic neutrals, trying to tread a careful path between pleasing their hosts and seeming to support them. This becomes increasingly difficult due to the presence of an unidentified Jewess, Christe, as their cook.
She is clearly the big attraction as, not only do both of the Irishman melt in her company but so does the bigoted German spy Kollvitz, whom they inexplicably allow to have the freedom of their nominally neutral territory.
As the chalk and cheese pairing bicker about the status of Ireland and their interest in the young woman, an element of depth is added by the suddenly serious O'Kane's attempts to do something about the horrors being perpetrated at Bergen-Belsen. This is honourable but totally out of character and, strangely, brings out an equally uncharacteristic response from the more sensitive Mallin.
In the meantime, Kollvitz played by Peter Moreton turns out to be not only an overweight gourmand but a serial blackmailer. His efforts eventually persuade Isla Carter as a woman who is not only Jewish but the sister of a Communist to undress and happily pose for sexy photos before mysteriously falling in love, but additionally send O'Kane packing, as a result of his gambling debts.
Various subplots are generally used to inject a little comedy into a play that might well have offered a deeply serious perspective on the attempts of a country and its diplomats to remain neutral at a time when neutrality should not have been an option.
Millions of people enjoy undemanding TV dramas every night so there could well be a market for Berlin Hanover Express. A more discerning theatrical audience might well feel less enthusiastic about a play in which so many holes can be picked.
Playing until 4 April
Reviewer: Philip Fisher