Bernstein Centenary: Yugen / The Age of Anxiety / Corybantic Games
Choreography Wayne McGregor, Liam Scarlett, Christopher Wheeldon
Royal Ballet
Royal Opera House
–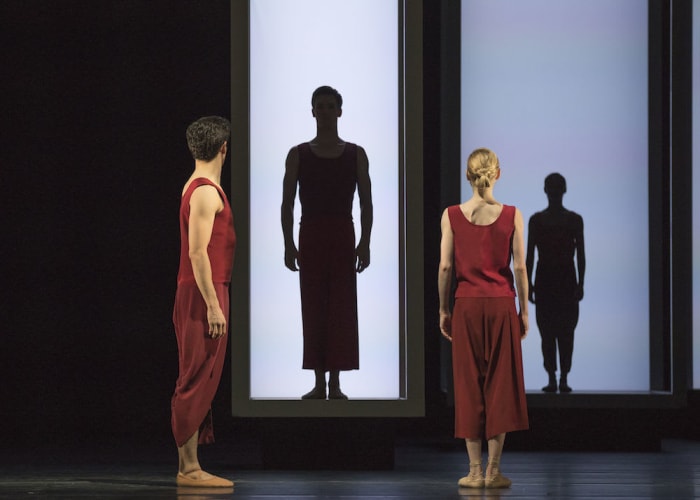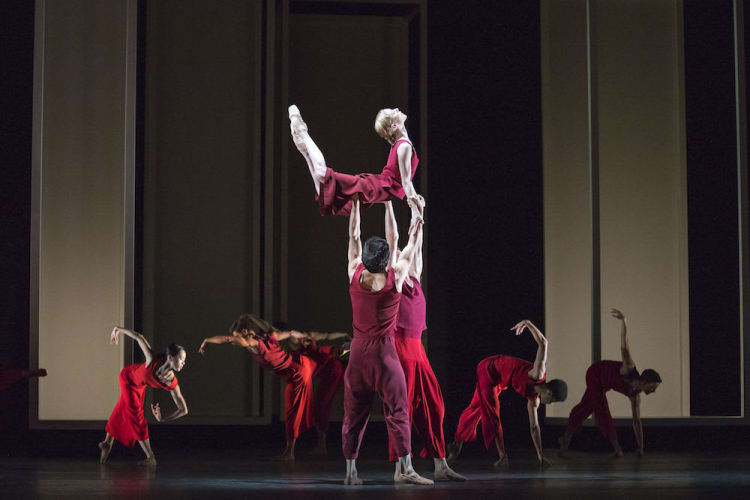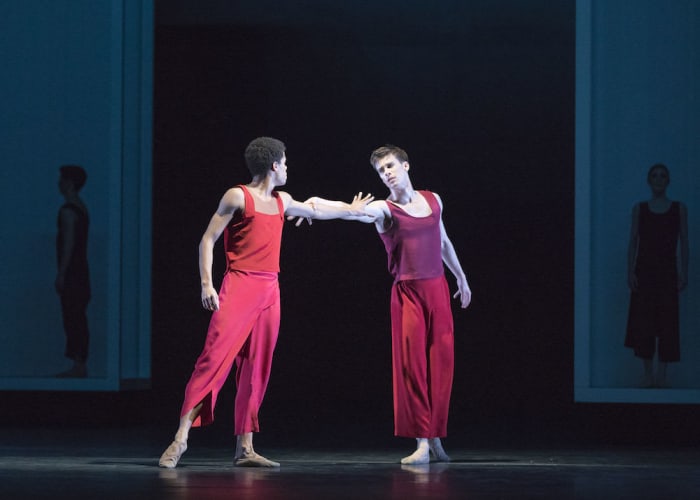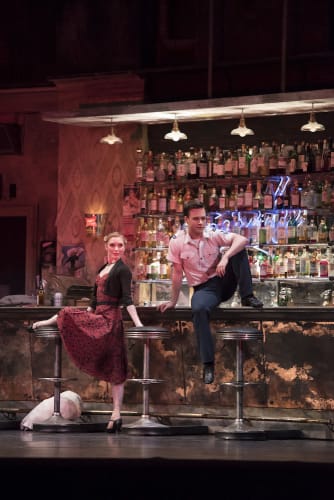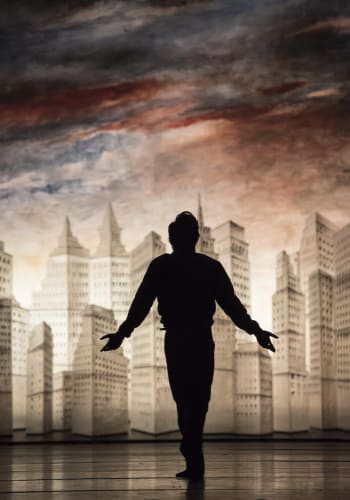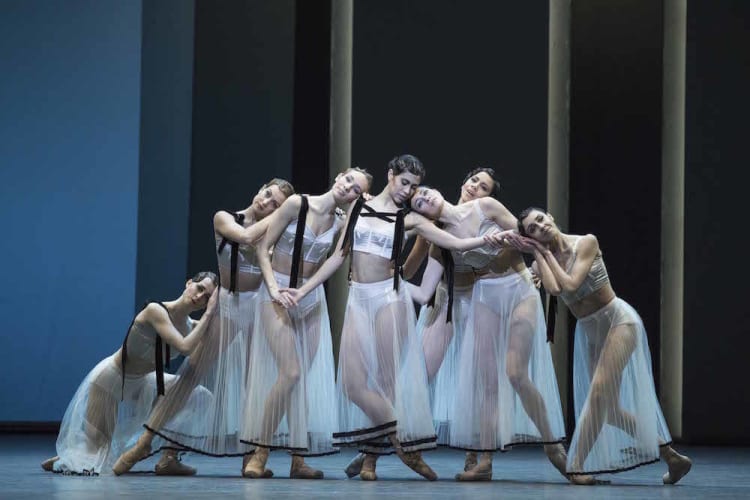 Much will be written about Leonard Bernstein this centenary year of his birth; tribute events have already taken place globally and will continue. The Royal Ballet celebrates with a trio of works, two new from resident choreographer Wayne McGregor and artistic associate Christopher Wheeldon and a revival of artist in residence Liam Scarlett's The Age of Anxiety of 2014.
For his nineteen-minute tribute, Yugen, McGregor has chosen Bernstein's Chichester Psalms commissioned in 1965 by the dean of Chichester Cathedral, Walter Hussey. Yugen, a Japanese word that can mean the profundity and sadness of beauty, does not quite capture Bernstein's jazzy, jaunty, joyful psalms. Broadway, Hebrew verse and the choral tradition are wonderfully interlaced and the Royal Opera Chorus, with solo treble Anish Shah, are to be complimented.
Bernstein, not one to squander failed projects, recycled many of his ideas for a Broadway musical of Thornton Wilder's The Skin of Our Teeth into this glorious concert work, writing to Hussey, "it is quite popular in feeling (even a hint, as you suggested, of West Side Story)…" There you have its reach and embracing power (Peter Martin of NYC Ballet created a Chichester Psalms dance piece in 2004).
McGregor goes for solemn religious imagery and a soft balletic language. Ceramicist Edmund de Waal's set design, lit by Lucy Carter, is stark: five tall light boxes, in which members of a tribe of eleven dancers dressed in Shirin Guild's red and magenta loose harem pants and vests are arranged like his delicate elegant pots, a similar framing concept to McGregor's Woolf Works.
In the second night cast, Matthew Ball, Olivia Cowley, James Hay and Calvin Richardson standout, Richardson particularly in his solos. Baggy trousers concealing the lower body, supplicant hands, beseeching arms and supple torsos must do the expressive hard work.
The stage picture is beautiful and striking, but it needs distance and a panoramic view, as does Wheeldon's Corybantic Games, to do it justice. My vantage point five rows from the front, so close to the orchestra pit, favours my ear more than my eye.
Wheeldon's thirty-three-minute-long Corybantic Games to Bernstein's 1954 five-movement concerto for violin and orchestra, Serenade after Plato's Symposium, owes much to Balanchine. And I think I see Bronislava Nijinska's Les Noces in some of the groupings. Sergey Levitin is the solo violinist tonight, Isaac Stern in 1954 with Bernstein conducting.
Corybantic suggests wild dancing, originally by the acolytes of the Phrygian goddess of nature, Cybele, but there's little corybantic in the serene choreography and frieze poses. Plato's Symposium on the differing nature of love seems to be Wheeldon's jumping off point. Platonic and Sapphic partners find their lost ideal other halves. Marcelino Sambé and Mayara Magri's duet is frisky, but it's only in the last movement that the dance has any suggestion of the mildly erotic or ritualistic, Tiernay Heap's goddess coming on like a Hollywood femme fatale.
Erdem Moralioglu's fashion plate costumes, diaphanous white pleated skirts trimmed with black velvet over fifties corsetry for the women (the skirts vanish quite quickly) and white tights and sheer mesh vests trimmed with dangling black epaulette ribbons for the men, nod towards ancient Greece yet the dancers in gelled slicked-down hairdos also have a 1920s Diaghilev Riviera look about them.
Jean-Marc Puissant's restless architectural design heightened by Peter Mumford's evocative 'Rothko' lighting (Mycenae's Lion Gate under the fluctuating glow of a Greek sky?) takes one's attention away from the Greek vase poses, the gymnastic moves, the skids across the floor, the quirky upside down lifts, flexed feet and handstand kicks.
In the middle of these two abstract works sits Scarlett's thirty-nine-minute The Age of Anxiety to the 1949 Second Symphony score based on W H Auden's eponymous Pulitzer Prize-winning narrative poem of 1944, with which Bernstein was said to identify. Jerome Robbins, Bernstein's friend and regular collaborator, choreographed a ballet in 1950. Apparently, Auden didn't like it, but then he didn't like ballet much.
Set in a bar in New York where four lonely characters make a brief connection: Quant an ageing businessman, Malin a retired Canadian air force medical officer, Emble a young sailor, and Rosetta a buyer for a department store. They go back to Rosetta's chic flat with its New York skyline vista, drink some more, flirt and go separate ways.
Some method acting or Kenneth MacMillan punch might be in order to give more of a sense of unsettled anxiety—goodness knows there's enough of that flying about these days—Luca Acri, James Hay and the delectable Sarah Lamb are lightweight. Thomas Whitehead is the sweaty business as Quant.
John MacFarlane's set would sit well in a Broadway musical. Bernstein wrote, "I have a deep suspicion that every work I write… is really theatre music in some way." And Scarlett comes close to doing him proud. Solo pianist is Robert Clark, conductor Koen Kessels.
The triple bill can be seen 'Live' in cinemas 27 March.
Reviewer: Vera Liber