Best Foot Forward
Maeve Larkin
Mikron Theatre
Youth Hostel Association, York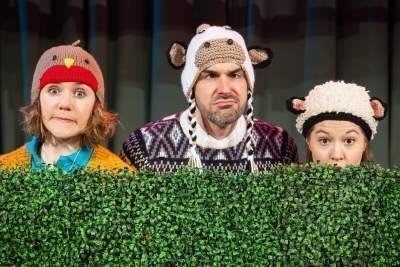 Since 1972, Mikron Theatre has travelled all over the UK by narrowboat to perform in a range of non-traditional performance spaces, including allotments, dry docks, lifeboat stations and even the inside of a tunnel on one occasion. Their mission: to bring theatre to parts of the country that other companies cannot.
For 45 years, Mikron Theatre has specialised in staging plays about uniquely British things such as the post office (Don't Shoot the Messenger!), the Women's Institute (Raising Agents) and the nation's favourite dish, good ol' fish and chips (One of Each). In her fifth work for the company, Best Foot Forward, playwright Maeve Larkin takes a light-hearted look at the Youth Hostelling Association. And where better to stage such a show than York's much-loved branch of the YHA?
Pearling Manor—a beautiful if somewhat dilapidated youth hostel in the Yorkshire countryside—is in trouble. A cold-hearted yuppie from London (James McLean) wants to buy the land and turn it into a golf course, so he dispatches his hapless minion Guy (Craig Anderson) to carry out his bidding.
However, despite some half-hearted attempts to put the hostel out of business, Guy finds himself drawn to the hostel's sense of tradition, as embodied by Connie (Rose McPhilemy), the guardian angel of the YHA, and kind-hearted Tiffany (Claire-Marie Seddon), the hostel's unflappable manager.
Larkin uses this deliberately hackneyed plot as a means of delivering a breezy and informative history of the YHA. I was surprised to learn, for example, that the movement was the brainchild of a German schoolteacher in 1909.
Best Foot Forward is filled with inventive comic scenes. My personal favourite was a send-up of an old documentary about the YHA, which reminded me of Harry Enfield's black-and-white parodies of old public information films such as Women: Know Your Limits! That being said, some of the show's innuendoes—particularly an over-extended gag about sausages—felt a bit out-of-place with the production's family-friendly humour.
Director Marianne McNamara ensures that the pace never lets up, coaxing lively performances from her talented cast of actor-musicians. Craig Anderson brings a goofy, dim-witted charm to the part of Guy, and Claire-Marie Seddon gives an energetic and touching performance as the overworked and idealistic Tiffany. James McLean demonstrates his versatility in a range of smaller parts, switching from heartless capitalist to hostelling bore with great ease. Rose McPhilemy is consistently hilarious throughout, earning many of the evening's biggest laughs with her ace comic delivery.
As always with Mikron productions, Best Foot Forward is punctuated with lively musical performances. These catchy numbers, written by Kieran Buckeridge and directed by Rebekah Hughes, are skilfully performed by the cast who play an impressive range of instruments including accordion, trumpet and guitar. Their musicianship, combined with Buckeridge's witty lyrics, add another dimension to the show.
I must confess that the prospect of watching a play about youth hostelling didn't exactly set my hair on fire, but Mikron's latest play is far more enjoyable than I expected. Best Foot Forward is a jolly, charming and good-hearted show that deserves to find appreciative audiences as it travels the country on its national tour.
Reviewer: James Ballands