Best of Enemies
James Graham, inspired by the documentary by Morgan Neville and Robert Gordon
Headlong Theatre
Young Vic
–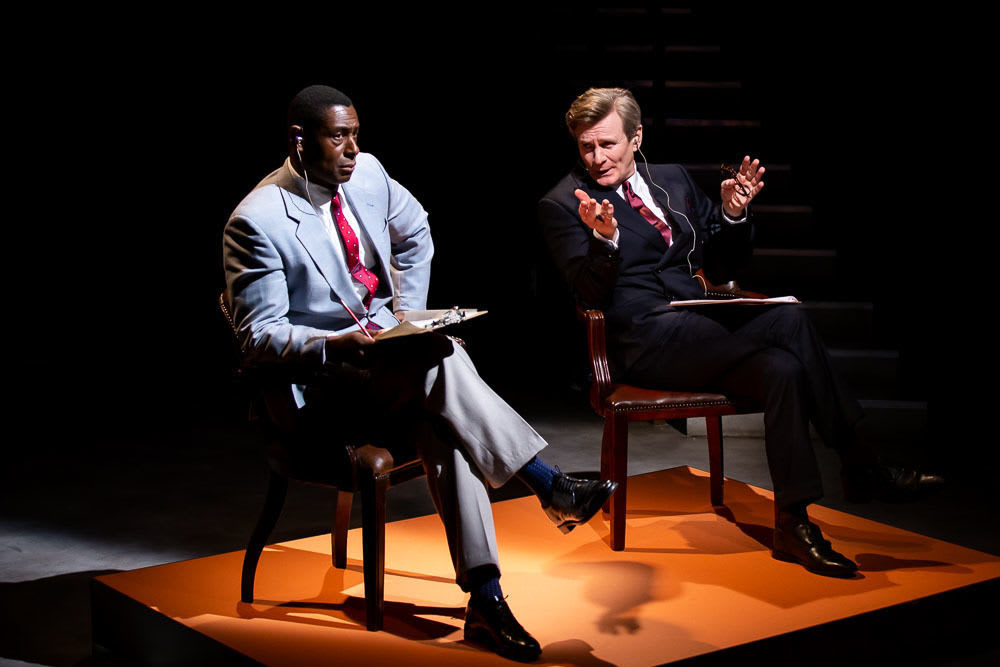 Once again, viewers around the world should be paying homage to Kwame Kwei-Armah and his team at the Young Vic for their foresight in creating the Best Seat in Your House project which brings live theatre into the living room.
It is debatable as to whether many will indulge in the opportunity to direct the film themselves, picking from eight cameras, two of which are on stage, especially when the director's cut is so expertly managed, but the feature is certainly a novelty.
What viewers have in store is a real coup for the theatre, which has managed to enter into a co-production agreement with Headlong Theatre to produce a play by the superlative James Graham, directed by the company's former Artistic Director Jeremy Herrin.
At first glance, the subject matter might seem entirely historical, since it features a head-to-head, heavyweight pugilistic bout between two egotistical American intellectuals. However, as you sit through the 2½-hour production, parallels with contemporary events become increasingly apparent.
The prize fighters are described as a flamboyant playwright and failed presidential hopeful and someone who is equally unsuccessful in his attempts to become mayor of New York. The former is Charles Edwards taking the role of the liberal novelist and playwright Gore Vidal, his opponent, conservative journalist and editor William F Buckley, portrayed by David Harewood.
The expository preamble introduces us not only to what are described as "two of the world's foremost brains" but also their moderator, and rarely has the word seemed more appropriate, Howard K Smith played by John Hodgkinson.
James Graham loves to fascinate with subject matter that might normally seem mundane and his tale of the tripartite battle between American TV news corporations proves to be fascinating. Before these debates, ABC had been the poor relative, trailing in a sad third place behind NBC and CBS. That, in part, explains why they attempted to create a whole new genre that would change US and global TV forever.
The centrepiece of the evening is the battle for the soul of America, as suave Vidal lays out the kind of vision that would, only a decade before, have been viewed as dangerously close to communism, while his antagonist sets out a view that eventually leads to unwarranted but colourful accusations of Nazism as a response to gratuitous use of the term queer.
In addition to picking choice morsels from the TV debates that took place in Miami (Republican) and Chicago (Democrat) during the presidential nomination conventions, the play also depicts some high-profile individuals to add additional drama and perspective. These include the odious Mayor Daley of Chicago and cultural friends of Gore Vidal such as James Baldwin, Andy Warhol and Aretha Franklin.
Such was the power of the unconventional convention coverage that not only were celebrities drawn into its ambit but Richard Milhous Nixon, the man who eventually won the election, was also glued to his TV. All of this is fascinating from a historical perspective and makes for great drama as two men, who might have hated each other but so obviously had great similarities, trade blows.
When Clare Foster as Buckley's wife Patricia delivers a commentary on media manipulation of populism and then, subsequently, Vidal asks us all to consider "does television run America?", suddenly it all feels dangerously close to home.
Best of Enemies is a gripping drama, slickly but subtly directed on Bunny Christie's amphitheatre-inspired set, that yet again demonstrates that James Graham is undoubtedly the finest contemporary creator of political plays and many might argue that the word "political" in this sentence is redundant.
Reviewer: Philip Fisher