Betrayal
Harold Pinter
Comedy Theatre
(2011)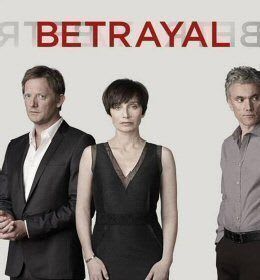 When you watch Betrayal, whether for the first or the umpteenth time, it still comes over as a work of structural genius that turns a familiar situation into something completely fresh.
Harold Pinter chose to write a stage version of his love affair with Joan Bakewell, largely in reverse order.
The drama opens with a meeting in 1977 between Emma and Jerry two years after their affair has ended, by which time it has become an almost forgotten episode of shared history.
With peeling wallpaper, their Kilburn love nest looks seedy and bereft of warmth but, as we discover, for seven years, this was the location for regular afternoons of shared passion and pleasure.
The flat is part of Jeremy Herbert's design concept which uses parts of rooms that each occupy only a limited section of stage space, thus symbolising the hidden aspects of these character's lives.
We soon discover that Jerry, played by Douglas Henshall, was best man at the wedding of Kristin Scott Thomas's Emma. That was because, as well as making him a cuckold, he is also her husband Robert's best friend and squash partner.
The pair additionally have a professional relationship as Jerry is an inspirational literary agent, while Robert is a publisher.
This is all clear by the end of paired scenes set a couple of years earlier, which together show the end of the affair and its aftermath.
For the remainder of the 90 minutes, Pinter and his director Ian Rickson lead us back through good times and bad for the trio (Jerry's wife Judith is never seen). We finally reach 1968 and a stolen, drunken kiss during a party that was the catalyst for so much joy and heartache.
Harold Pinter was always a controlled and controlling playwright and every move and breath seems choreographed. Therefore, we almost live through the highlights of the affair ourselves, learning about tiny betrayals as well as much larger ones.
Kristin Scott Thomas is immaculate, conveying the pain of parting just as well as the awkwardness of the couple's last meeting or the nervousness of receiving and repelling an initial advance.
Douglas Henshall makes Jerry a still, ironic character who, despite the undoubted physical attraction, after the initial impulse seen at the end of the play, never seems as close to his lover as either is to her husband.
Strangely, although he is playing the husband role of Robert rather than the lover, Ben Miles has been carefully dressed and made up so that at first sight looks exactly like Pinter himself.
His behaviour can best be characterised as barely controlled belligerence. That is the case whether he is bullying his wife after discovering her secret in a pivotal scene set in Venice or confronting her lover long after the event.
Betrayal is Pinter's most accessible and arguably best play. Ian Rickson and his cast have provided a fine revival that combines Pinteresque menace with passion and intrigue. With Kristin Scott Thomas at her best, this will prove a hot ticket.
Reviewer: Philip Fisher