Betrayal
Harold Pinter
Donmar Warehouse
(2007)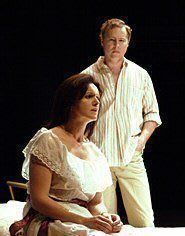 Harold Pinter's semi-autobiographical play, first seen under Peter Hall's direction at the National Theatre in 1978, is almost certainly his most accessible and arguably his best.
Starting with the end of the affair in 1977, it tracks the story of the playwright's lengthy fling with broadcaster Joan Bakewell backwards, culminating with the initial drunken seduction and in freeze-frame, the look that started the deception which eventually encompasses all of the main players and several unseen others.
Roger Michell's new production brings together an all-star creative team led by Irish actress, Dervla Kirwan, best known for her TV stardom in Ballykissangel and Goodnight Sweetheart.
She is joined on stage by two members of acting dynasties, Samuel West, whose parents are Timothy West and Prunella Scales, and Toby Stephens, son of the late Robert Stephens and Maggie Smith.
Miss Kirwan is Emma, a well-bred beauty who works in an art gallery and is the wife of strait-laced publisher Robert.
The men play greatly contrasting types, with West taking the part of the cool, controlled and Pinteresquely cruel Robert, while Stephens in the Pinter role is emotional and easily hurt but not as passionate as one might expect. This characterisation may partly be an indication of an alcohol problem, since for the full 90 minutes, at least one of the characters on stage at any time and more often all of them, is taking copious quantities of strong drink.
The play opens as Emma has a valedictory meeting with Jerry, a literary agent who was not only her lover but also her husband's best friend and best man.
Despite seven years of passion, the couple still have the ability to shock and betray each other, as they rake over the coals of a love that miraculously makes Kilburn seem more exotic and erotic even than Venice or Torcello.
The actress hits her stride immediately, but in the early stages, while Jerry is justifiably overwrought, Stephens, looking uncannily like Hugh Grant, makes him seem camp and twittery.
Strangely, as the play develops, more often than not the most comfortable relationship is that between the two clubbable men, who chat about writers over regular business lunches.
The affair is measured in crises, whether domestic or connected to fear of revelation. When Jerry is with Emma, both are generally uncomfortable, although hope and happiness gradually develop as we follow them back in time and there is a recurring motif of a child tossed in the air that encapsulates that happiness. Similarly, when husband and wife talk, discussions are strained, although that is partly down to the timing of the meetings selected by Pinter to display their relationship.
The air of secrecy is beautifully reflected by designer William Dudley who uses a simple, open set, featuring little more than a handful of props and a large distressed parquet floor. However, he swathes the space in large white curtains on curving tracks. These are deeply symbolic, like the discussions and relationships, always keeping something hidden.
Pinter must have known, when he was writing the play, that the subject matter had been covered many times before. By telling the story backwards, he makes it both touching and fascinating. He then overlays it using typically brilliant dialogue with trademark repetition and pauses in Roger Michell's meticulously directed, well-paced revival (which with Pinter means a tempo that gives the audience plenty of time to savour both situation and text).
Much of the joy of Betrayal is the audience's far greater knowledge than the protagonists of their predicaments but there are still enough surprises to keep viewers on their toes. The play also takes its audience into the hearts and heads of three people, with at least one of whom they may well identify.
This is a marvellous, multi-layered play that periodically sends shivers down the spine and is given a gripping new production in which Dervla Kirwan excels, while the two men are not too far behind. It is to be hoped that this stylish revival will receive a transfer to a major West End theatre, since the Donmar run had sold out before the play even opened.
Reviewer: Philip Fisher