Beyond Ballets Russes Programme 2: Apollo / Jeux / Le Train bleu / Suite en blanc

English National Ballet
London Coliseum
–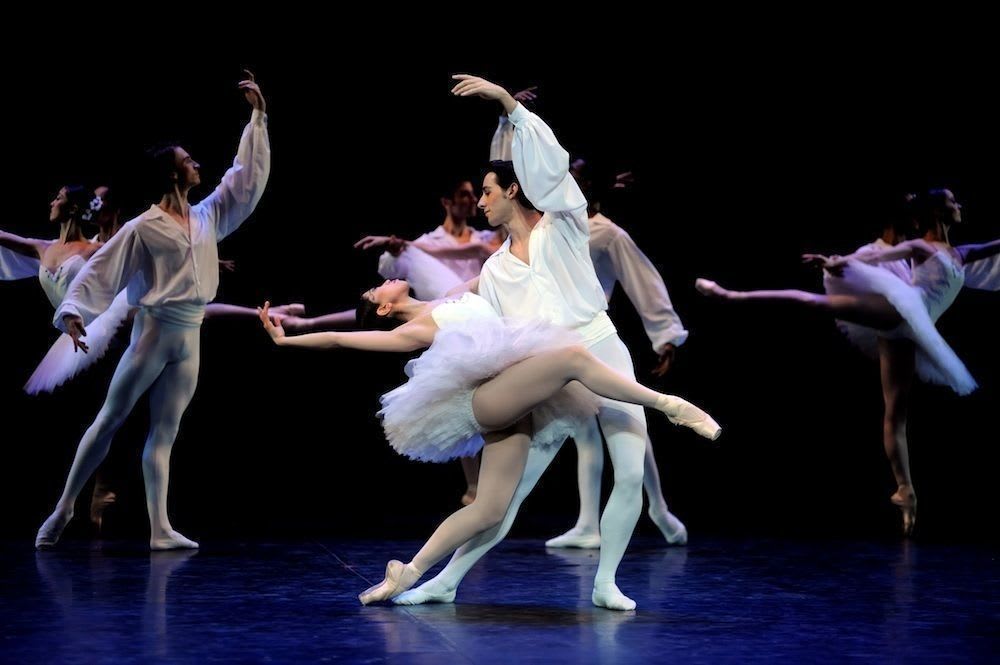 Something old, something new, something borrowed, something blue just about covers the English National Ballet's second Beyond Ballet Russes programme, which ends with Serge Lifar's three-tier wedding cake of a neoclassical ballet, Suite en blanc, showing off the whole company.
Smart programming from artistic director, Wayne Eagling, not only are Ballets Russes influences honoured and echoes acknowledged, but ballet's DNA is perceptible in each tessellation.
Lifar in a sense opens and closes the programme. One of the stars in the Ballets Russes firmament, he was the original Apollo in Balanchine's cool neoclassical ballet. Choreographed just four year's after joining Diaghilev's company in 1924, this was Balanchine's first collaboration with Stravinsky.
Before he can attain the heights of Parnassus, Apollo (Zdenek Konvalina), must be tutored in the arts by three muses, Terpsichore (dance), Polyhymnia (mime), and Calliope (poetry and eloquence). Terpsichore pleases him most, as does Daria Klimentová me, though Anaïs Chalendard and Begoña Cao are not to be sniffed at either.
A harnessed troika, arabesque legs flower stamens, three hands reach out to cradle and nurture the young god's creativity. An immature faun, a preening show-off, his steps emerge from the folk dance poses of the ancients. The solos for the three women have a modern classical edge. Stravinsky's chords send the sun god to his rightful place, but it is the women on the lower reaches who have taught him all he knows. Balanchine gets that right.
Wayne Eagling, too, muses on the source of inspiration in his new work. Stimulated by Nijinsky's 1913 original Jeux (music by Debussy; set and costume by Léon Bakst), few fragments of which remain, in which Nijinsky enters with a grand jeté chasing a tennis ball, Eagling also admits a debt to Kenneth MacMillan's choreography for Herbert Ross's film Nijinsky.
A bouncing tennis ball flung from the wings gets a laugh, but it sets a choreographer's juices flowing. Images of a tennis trio, boy and two girls, a man at a practice barre, a couple leaning on a grand piano invade the rehearsal room of the seated young man's mind.
Eagling may be seeing Nijinsky, but Fred Astaire and his boulevard fantasies take occupation in my mind's eye. They vanish; a shadow falls on the choreographer brooding in his chair; a figure standing in a shaft of light throws a tennis ball at him. It is Diaghilev, impresario, catalyst. The young man cowers.
More games follow in the acrobatic blink-and-you-miss-it Le beau gosse extract from Bronislava Nijinska's 1924 Le Train bleu. Music was by Darius Milhaud, libretto was by Jean Cocteau apparently influenced by the Olympic games, silent movies and jazz, and costumes by Coco Chanel. Picasso painted the curtain. Le Train bleu was a luxury night train from Calais to the French Riviera.
A mood lifter, the fashionable set having fun on the beach, the lead roles were danced by Bronislava Nijnska, Lydia Sokolova, Leon Woizikowski, and Anton Dolin as the swimming champion. It must be his role that Vadim Muntagirov is reprising in his two-tone black and cerise swimming costume in this entertaining bonne bouche snippet.
No one will be kicking sand in his face. Two hand, one hand, no hand cartwheels, scissor splits, somersaults, seaside body-building strongman poses, a quick burst of fireworks, a veritable rocket going off, Muntagirov executes the balletic gymnastics with great panache, and then he's gone—till he bounds back, like the proverbial bouncing ball, for his curtain call. Très amusant.
Suite en blanc, music from Édouard Lalo's short-lived Petipa ballet Namouna, whose section titles remain, Sieste, Serenade, Cigarette, Flute, takes us back to a sugar-coated reverie: fanfare overture, the curtain rises on a tiered tableau of symmetrically arranged dancers, thirty-four or more, but there is nothing meringue about the dancing.
Calf-length Giselle skirts, short tutus, men in all-white, men in white shirts and black tights, lyrical, Romantic, exhibitionist, every bit of classical vocabulary—entrechats, tours en l'air, grandes jetés, pirouettes, cabrioles, fouettés, dreamy adagios, classical firecrackers borrowed from Swan Lake, Giselle, Les Sylphides et al—find their way into Lifar's 1943 Imperial throwback showcase, and are given full expression in pas de trios, pas de cinque, pas de deux, and dynamic solos.
Gala sheen: Ken Saruhasi and Vadim Muntagirov frame lovely Laurretta Summerscales; Elena Glurdjidze, a Rachel Weisz lookalike, shows off her musicality and glowing personality in the Cigarette solo; Erina Takahashi confidence and command in arabesque and attitude balances in the Flute solo and the pas de deux with Zdenek Konvalina; Ksenia Ovsyanick makes her mark in Sieste; and Yonah Acosta overreaches himself in the solo Mazurka. "Ah, but a man's reach should exceed his grasp, or what's a heaven for?"
Reviewer: Vera Liber