Big Bite-Size Breakfast Show: Menu 2
Stephanie Weston, William Knowleden, Dave Simpson, Ronan Colfer, James McLindon
Bite-Size Plays
Pleasance Dome
–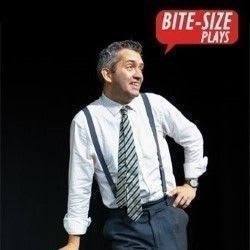 By far the strongest programme in this year's BBSB series features five plays, every one of which is a gem.
Battlelines by Stephanie Weston
We all know about people who spend their weekends re-enacting old battles. This play focuses on a group about to have another crack at the Battle of Hastings.
Problems abound, especially regarding the need to open up to women, threatening authenticity. When William the Conqueror disappears in a huff. All hell breaks loose, provoking a hilarious duel between characters played by Claira Watson Parr and Thomas Willshire.
Home by William Knowleden
A trio of astronauts, led by playwright William Knowleden as a boring, monologuing captain driving his fellows to distraction, are finally returning to earth after being stranded in space for three years. This comedy allows us to observe their unexpected reactions to long-awaited reunions.
I've Tried it Once by Dave Simpson
Imogen Miller Porter stars as recently widowed Audrey. She happily regales us with tales of a sexless marriage to shy Godfrey.
Her internal monologue is dramatised by other characters, adding spice to some saucy tales of a search for long-suppressed excitement.
Trapped Language of Love by Ronan Colfer
Rosie Edwards and Tom Hartwell play a young pair, attracted to each other while enjoying salads on a park bench.
While their direct conversation is bland, each has a fine line in Elizabethan interior monologue, their relationship flaming then collapsing in spectacular language.
Put Asunder by James McLindon
Put Asunder is a screwball comedy featuring Claira Watson Parr playing what is sometimes known as an Essex Girl on her wedding morning.
The happiest day of her life is almost destroyed by the ardour of a stream of possessive old flames in a fittingly hilarious end to a great programme.
Reviewer: Philip Fisher