Big Love
Charles L Mee
Gate, Notting Hill
(2006)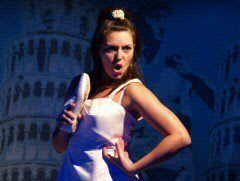 American director, Melissa Keivman and her British designer Hannah Clark must have had great fun in putting together this fantasy based on perhaps the very earliest Greek tragedy.
The Suppliant Women by Aeschylus may even be the earliest surviving play in the western world. It has a great story line as, in this modern version, fifty Greek sisters are lined up to become the wives of a similar number of their empire-building American male cousins.
The women flee to Italy in an attempt to escape a fate that they fear may be worse than death and the play opens as the first of their group, the red-headed Lydia (played by Victoria Yeates) mistakes an Italian mansion for a hotel where she is discovered by the camp young Giuliano (Alex Waldmann).
After Lydia is joined by two representative sisters, they throw themselves on the mercy of three generations of their hosts led by grandmother Bella, Ann Mitchell and the suavest of her thirteen tomato (you have to see the play!) sons Piero (Tim Hardy).
The action hots up as the three young men who were jilted at the altar by Lydia and her sisters turn up in a foul mood with the intention of reclaiming their brides.
It is then that we see one of the strengths of this play, at least from the actors' points of view. Everybody is given a chance to deliver a really worthwhile, if sometimes wordy, speech which more often than not sets out their view of life and sexual politics.
This allows not only Lydia but her two sisters to shine. Helen Baker is excellent as Thyona, as ardent a feminist as one can hope to meet, or in the case of her equally strident beau, Constantine played by Alexi Kaye Campbell, not to.
At the opposite end of the scale, the almost equally impressive Georgia Mackenzie plays pretty, vain Olympia who is more interested in her make-up than her almost silent fiancé, Oed.
The set, which relies on kitsch for its charm, also has a strangely soft floor surface and the reason for this is revealed as choreographer, Ann Yee asks the key members of the cast to risk life and limb, rather attractively though for no clearly discernible reason.
As both parties become more entrenched, their hosts and a couple of airhead house guests, also played by Ann Mitchell and Tim Hardy, fail to achieve the diplomacy that they had hoped for. The 90 minute play then builds to first a tragic and then a hopeful dénouement.
Thyona leads the women on to a mass slaughter, which, following the American rather than the Greek tradition, is bloodily shown on stage. However, unlike her 49 sisters, Lydia truly falls in love with Bradley Gardner's Nikos and rather than killing him, tries to snog his face off.
This allows wise old Bella to give a final definitive verdict on the battle of the sexes to close this most pleasurable, if rather gory, evening.
Melissa Kievman ensures that the action is accompanied by a strong soundtrack that starts, perfectly predictably with the Marriage of Figaro but is then as varied as the acting styles and movement. The whole may lack gravitas but nicely showcases the talents of the creative team and frequently amuses the audience.
Reviewer: Philip Fisher