Big White Fog
Theodore Ward
Almeida Theatre
(2007)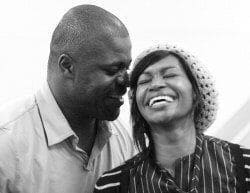 Far too often, politics and theatre make uncomfortable bedfellows. The sentiments underlying Big White Fog could not be more important or commendable. Unfortunately, as a drama, it fails to ignite, as Theodore Ward works harder and harder to make points, ignoring logical plotting or consistency of characterisation.
Ward was a Black American writing in 1937. That makes him one in a million and means that his tragi-comedy deserves to be revived.
Initially, in the early 1920s, he pits father of four and would-be politician Vic Mason, played by Danny Sapani, against his greedy brother-in-law, Tony Armatrading's Dan Rogers. Their outlooks could not be further apart and this soon divides the sisters to whom they are married.
Vic is a committed disciple of Marcus Garvey, waiting for the call to return to Africa and help to set up a Pan-African state where the Black man will rule and have respect. Dan cannot see beyond short-term gain at home in Chicago and sets himself up as a slum landlord making money through his lack of scruples.
For the next couple of hours, the comfortable family home, created by Jonathan Fensom, sees a remarkable flow of human traffic from a cast so large that it barely fits on to the stage for the final curtain call.
The womenfolk are led by Vic's wife, Jenny Jules as Ella, and her awful, caricatured mother, a loud-mouthed racist played by Novella Nelson, who cannot forgive her daughter for marrying a man who is so black.
The Masons also have four children, led by the bright, obedient Lester (Tunji Kasim), who never recovers from losing a college scholarship due to his colour. Next down is wilful Wanda (Gugu Mbatha-Raw), too headstrong for her own good.
The family's fortunes change forever when Vic plunges his funds, every penny of them, into the African dream, ignoring the offer of a half-share in the property racket.
A couple of years later, the Depression approaches and times get terrifyingly hard. Food is short, Vic prefers his honour to handouts and the younger children get sick. It only gets worse ten years on with the Depression at its worst. Lester, who had earlier given up college to save the family, is unable to help and Wanda, as breadwinner, sacrifices her honour with her white boss.
Even Uncle Dan has lost his wealth, while dissolute Uncle Percy, a nice cameo from Clint Dyer, transforms from the charming drinker of the opening scenes into a raving one.
The final scene is a tragic set-piece in which the bailiffs finally arrive, together with Wanda's ill-gotten and unwanted gains, hypocritical grandma and a Communist vigilante.
By this stage, Michael Attenborough's production has become prey to the manic twists and turns of Theodore Ward's melodramatic plot, as sensation builds on sensation in a world where there are no shades of grey.
Big White Fog wears its political heart on its sleeve and brings to the stage the terrible injustices that Blacks endured in the USA between the wars. It also allows a new generation to learn about Marcus Garvey and for these political and historical reasons, deserves praise. As a play, it strives for too much and as a result, achieves less than it might have.
Reviewer: Philip Fisher