Bill Bailey Tinselworm

Gielgud Theatre
(2008)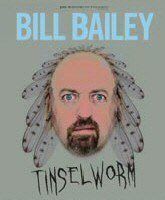 There is no shortage of musicals in the West End. There is a real shortage of plays. Plays, financially, are just too risky. It's a fact of life.
One result is that two theatres in Shaftesbury Avenue have stand-up comedians.
There is nothing wrong with that, of course, when they are of the caliber of Bill Bailey and Eddie Izzard (who is wonderful at the Lyric).
Bailey, comedian, classically trained musician, television personality, actor, and self-confessed hippie, has been a solo performer since his success at the Edinburgh Festival in 1995.
He has been likened to a hobbit with a wicked sense of humour.
He was voted Number 7 in Channel 4's 100 Great Stand-Ups and recently celebrated Prince Charles's 60th Birthday.
As an actor he has appeared in Twelve Angry Men and The Odd Couple. His appearance in Pinter's People, a revue based on Harold Pinter's sketches, at Theatre Royal, Haymarket, was a major disappointment, except for the Victoria Station sketch which was done so well that you wondered why the rest of it was so bad. Part of the trouble was that Pinter's sketches and monologues were never meant to be performed one after another.
Tinselworm is much more rewarding and arrives in London, following sell-out tours in the UK, New Zealand and Australia.
His subject matter is wide-ranging and includes tattoos, creationism, doorbells (great sound), Barack Obama, Olympic Games in London (very anti), conversations with George Bush, electricity (French and German variety) and Nazi Gold in Swiss Banks (vitriolic).
The performance is notable for his skill with language, music, keyboard, guitar, and video projection. There is not a single expletive all evening, which, in this day and age, is truly amazing.
Such is Bill Bailey's popularity the season at the Gielgud has already been extended by a month.
Visit our sponsor 1st 4 London Theatre to book tickets for Bill Bailey Tinselworm
Reviewer: Robert Tanitch