Billy Elliot the Musical
Book and lyrics by Lee Hall, music by Sir Elton John
Victoria Palace Theatre
(2005)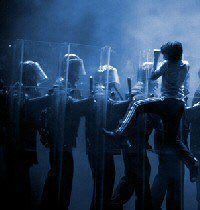 The Producers has demonstrated how a much loved film can be converted into a successful West End (and Broadway) stage musical. Billy Elliot The Musical seems set to follow suit and can anticipate a long run to full houses.
The story is so simple that it will be familiar to many in have not even seen the film. In one long sentence, it goes as follows: -
A miner's son gives up his boxing lessons to take up ballet under the auspices of an inspiring teacher, played by Julie Walters in the film, and ends up starring in Swan Lake at Covent Garden.
The translation on to stage is faithful, as one might expect with the original writer and director, Lee Hall and Stephen Daldry, performing similar roles once again.
Billy, played on the opening night by Liam Mower, comes from a troubled family. Easington in County Durham was not a good place to be in 1984/85. The colliery was closed down by a miners' strike and Billy's father, played by Tim Healy, and brother Tony (Joe Caffrey) are both out of work. The boy's beloved mother is dead and grandma has gone round the twist.
Billy's decision to transfer the much needed 50p pieces from boxing lessons given by blunt George - Trevor Fox, complete with Rubettes hat and a good line in panto - to the escapism of ballet is understandable.
When the teacher is the gorgeous Mrs Wilkinson and you quite like her daughter Debbie - Lucy Stephenson on this occasion - you will put up with the embarrassment.
Haydn Gwynne is absolutely wonderful as the inspiring Mrs W. She sings with a cabaret singer's sexy, smoky voice, has a fantastic sense of humour and dances like a professional. She also gets one of the most moving moments of the play as this surrogate mother sings a duet with the ghostly real one, Stephanie Putson.
The interplay between ballet lessons and battles on picket lines is well done and gives the stage version a harder edge than the film. The first half is tremendous fun, assisted greatly by Sir Elton John's music which is often anthemic and uplifting from the rousing opening song The Stars Look Down.
The final scene before the interval, one and a half hours into the action is tremendous. It starts with Master Mower producing a dance spectacular combining anguished flamenco and tap as he fights his inner demons and then, through dry ice and blood-red lighting, riot police complete with Perspex shields.
Things go a little flat during the last hour. First, depressed father Tim Healy sings two dreary ballads and then the pace slows right down. This is ostensibly to build up tension, as Billy first misses and then attends auditions for the Royal Ballet School and is finally successful.
There is a really rousing finale as Liam Mower closes the play walking the full length of the theatre down the central aisle and then he leads the whole cast in a wonderful song and dance that leaves the audience very happy as they trudge out into Victoria.
Liam Mower is an inspirational dancer and acrobat but has a barely acceptable singing voice and is no better than a fair actor. Indeed a third youngster, the talented Ryan Longbottom playing Michael, a boy following in his father's high-heeled footsteps as a cross-dresser, shows him up with fine comic acting and good singing.
When casting the main parts for Billy Elliott The Musical, it appears that Stephen Daldry has been more interested in the dancing and acting skills than the singing. While this has helped choreographer Peter Darling who does a great job, Sir Elton has not always been as well favoured.
The story-line comes through well and the politics eventually hit home as multiple puppets of Lady Thatcher cause some laughs. Daldry and Hall also conjure up more comic touches than they managed on celluloid (if that material is still used).
On the opening night, the audience did not leave until three hours 10 minutes after the scheduled starting time. This is too long for the material and if Daldry could cut the production's running time to about two-and-a-half hours he might have a very long-running hit on his hands.
Reviewer: Philip Fisher