Billy Elliot
Book and Lyrics by Lee Hall, Music by Sir Elton John
Imperial Theatre, New York
(2009)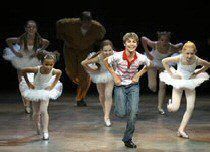 Three years ago, when it opened in London, Billy Elliot entered our Top 5 plays and it has remained there ever since. Even better, a few months ago it was joined by another memorable Lee Hall miners' play set in the North East but an earlier era, The Pitmen Painters. It is therefore a relief to see the New York version and receive reassurance that this musical fully deserves its elevated status.
The accents may be a little rocky on occasion but everything else is still as close to perfect as one could wish for. The amazing thing is that the producers in both countries can somehow tap into a stream of young talent and discover enough top quality Billys to satisfy demand.
Kyril Kulish is certainly an amazing ballet and tap dancer, a good actor and at least a passable singer. His energy levels are high too, as he spends most of the three hours on stage.
When director Stephen Daldry is on song, there are few that can compare with him. Repeatedly, he creates inventive images and interactions that are spectacular, moving or hilarious. The highlight in this production is perhaps the best interval curtain moment in contemporary theatre, as a rock concert-lit battle between picketing miners and police with plastic shields becomes a metaphor for our young hero's struggles, choreographed to the crashing music of the Angry Dance.
There are, though, so many other moments that are almost as good, courtesy of Lee Hall and Stephen Daldry. They receive welcome assistance from Sir Elton John, whose score is at its best with the racier numbers, designer Ian MacNeill and his lighting colleague, Rick Fisher and last but certainly not least, the choreographer, Peter Darling.
The factor that makes Billy Elliot extraordinary is the mixture of personal and political, which is a rarity in musical theatre. This is best exemplified in an early scene where a ballet class of little girls make a double act with as many burly policemen.
Quite what some New Yorkers will make of all this is uncertain. Even those that get the hang of the almost Geordie accents will then need a lesson in British political history and particularly a bitter, year-long miner's strike quarter of a century ago fought against the detested Prime Minister, Lady (then Margaret or Maggie) Thatcher.
The odds are that most will allow this aspect to wash over them and enjoy the story of a young lad from a tough environment who falls into ballet and then, against everyone's better judgement, makes it to the Royal Ballet School.
This would be heart-warming enough but the play is also packed with unforgettable characters. Billy is the obvious star but on this occasion, David Bologna playing cross-dressing Michael almost steals the show. He is a half-pint-sized, born showman with a winning way and an unbelievably bad accent.
At the other end of the age range, Carole Shelley as senile Grandma gets one hilariously raucous song, which she delivers with great gusto and a stream of pithy one-liners.
Gregory Jbara gives Dad real heart, desperately trying to mix his political pride with his son's interests. (Ignoring the afore-mentioned Mrs T.), he faces two antagonists. One is his older son Tony, a union hard-liner if ever there was one but the other is even harder.
She is Mrs Wilkinson, played by the lady who created the part in London, Haydn Gwynne. She makes a marvellously down-to-earth dance teacher who spots the potential then ensures that it can be fulfilled in the face of real hatred from the angry dispossessed in their makeshift soup kitchen.
With its rousing anthems, tear-jerking story, comedy, politics and pathos, Billy Elliot is a sure-fire winner and, even on Broadway where producers appear to be running scared, deserves to and almost certainly will, have a long and prosperous life.
Reviewer: Philip Fisher