The House of Bilquis Bibi
Sudhar Bhuchar
Tamasha Theatre Company
Hampstead Theatre
(2010)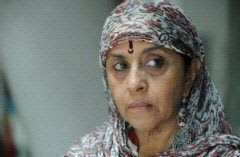 To celebrate the company's 21st birthday, Tamasha's founders Sudhar Bhuchar and Kristine Landon-Smith have created a radical and quite possibly highly controversial new version of The House of Bernarda Alba by Federico García Lorca.
Where the Spanish playwright satirised outdated attitudes in his own country almost 80 years ago, Miss Bhuchar, who has written the script while her colleague directs, identifies similar issues in Pakistan today.
Both plays feature the efforts of a recently-widowed, tyrannical matriarch to prevent her five daughters from fulfilling their destiny and getting married.
In this case, Ila Arun plays Bilquis Bibi, who is named for the Queen of Sheba. She is a jealous harridan intent on keeping the girls from any kind of pleasure although the actress gives the impression of the weight of the world on her shoulders, suggesting there may be a heart somewhere beneath the tough exterior.
Her rationale for repression is mediaeval in our eyes, the requirement that an upper-class family cannot be seen to allow its daughters to marry beneath their station - and with a single exception everybody in town falls into that category.
This unseen Adonis has been promised to stepdaughter Abida, played by Ghizala Avan. She may be rather too old to marry but Abida has everything that her young suitor could wish for, i.e. a satisfactory bridal dowry.
Having skewed the whole inheritance, it means that none of her four stepsisters has any realistic chance of marriage. To make matters worse, with no alternatives, it is inevitable that they might feel an illicit desire for her fiancé and, as a consequence, the path of true love is unlikely to run smoothly.
In fact, the major dramas of the play centre on the daily hidden passions of Mariam Haque's Sumayyah, appropriately the first martyr in Islam, and younger sister Aroosa, the bride in name if not reality, played by Youkti Patel.
Indira Joshi in the role of batty old grandmother Mehroonisa proves herself to be something of a seer. Following her predictions, the Spanish tragedy plays itself out to an equally convincing Pakistani denouement.
In addition to the main players, Rina Fatania, playing ironically named Bushra or good news, is particularly notable as a supposedly loyal family retainer who never seems happier than when delivering morsels of scandal with inordinate relish.
The major problem that many audience members will face is a difficulty in understanding the speeches of several actresses. A combination of various unfamiliar accents, speech in the local tongue (Urdu?) and a failure to project adequately make intelligibility a serious problem, particularly when Bilquis herself is speaking. This means that those who are not comfortable with the accents and do not know that the original might struggle to follow the plotting.
That having been said, the story in this adaptation is faithful to Lorca and as such, makes a powerful statement about the repressive attitudes that traditional Muslims still hold towards their women.
Therefore, for providing a novel reading of a classic play and making an issue that is already causing headlines on a regular basis a subject for intelligent theatrical treatment, Tamasha are to be congratulated.
Playing until 14 August
Reviewer: Philip Fisher