Bingo
Edward Bond
Young Vic
–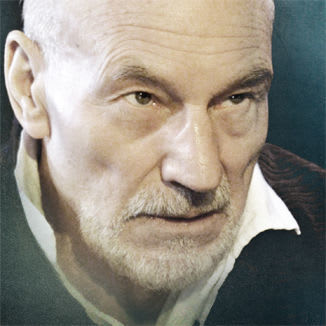 A whole industry has been built on recreating the life of William Shakespeare, in many cases helped rather than hindered by the lack of much concrete fact to support the hypotheses.
Edward Bond took a different approach, shining a light on the retired writer's final days and showing as much interest in the politics of Jacobean Warwickshire as that county's supreme writer, played by Patrick Stewart in this co-production first seen in Chichester.
This was an era of burgeoning capitalism fit to match our own times. Big bad magistrate Combe played by Matthew Marsh decides to enclose his fields condemning the poor of the region to starvation.
In the early scenes, his impeccable hypocrisy, supported by Shakespeare's puritanical daughter Judith, Catherine Cusack, is seen. A homeless girl, recently orphaned and only able to live by selling her body, is whipped, her male sexual partner allowed to go free, his reputation intact.
Though the setting with a high-walled leafy hedge as a mazy backdrop is colourful, the action is slow. Strangely, the depressive protagonist says little, more interested in protecting his rents than looking after the family or writing a new blockbuster.
Nor do we learn much about his history, beyond occasional oblique references and outpourings of hatred for a wife from whom he ran some three decades before.
Bingo only really comes to life with the arrival of Ben Jonson. Richard McCabe enjoys a spectacular five minutes in the limelight during which a vast amount of biographical information is disseminated by this lively firebrand.
His departure leaves Shakespeare drunken and maudlin as Stratford society collapses in quiet revolution, the poor leading pointless guerrilla raids against Combe and his like that are fraught with danger.
In Bingo, Edward Bond seems as keen to score political points as portray William Shakespeare, limiting Patrick Stewart's opportunities to shine, though he does his best. Strong support comes not only from McCabe but John McEnery and Ellie Haddington respectively playing Old Man and Old Woman, the former mentally backward but lusty, his wife long-suffering but loyal.
The subtitle, Scenes of Money and Death, pretty much sums up this evening. Despite some poetic speeches as the end approaches, the life of the greatest playwright remains as enigmatic as ever leaving spectators to ponder on the birth of capitalism and its subsequent development.
Reviewer: Philip Fisher