Birdman: a Film about Broadway
Alejandro G Iñárritu
(2014)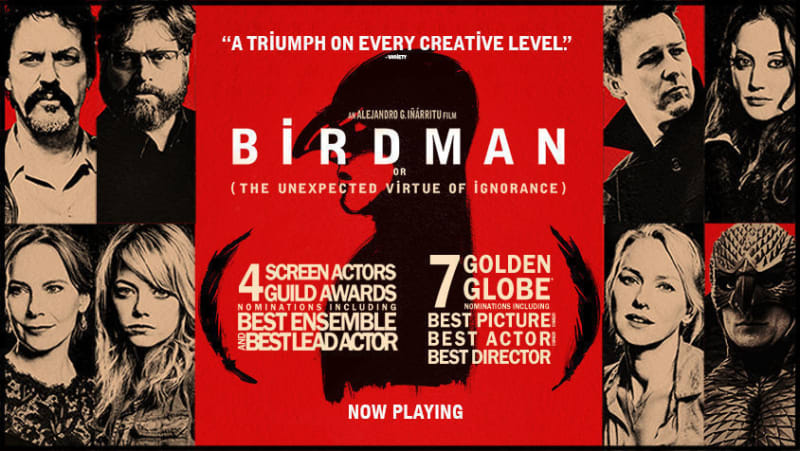 Birdman (subtitled The Unexpected Virtue of Ignorance) is a film that both anatomises and celebrates the joys and pleasures of working and producing plays on Broadway.
Mexican director Alejandro G Iñárritu, best known for his Amores Perros and the remainder of his Death Trilogy, has cast Michael Keaton in the title role. This is an in-joke since the actor starred to great acclaim as Batman on the big screen.
Long ago, his character Riggan Thomson coincidently starred in blockbuster Hollywood features, eventually ducking Birdman 4 despite the financial inducements to keep the superhero series going.
The intervening 20 years are skipped over until we reach the point where Riggan is producing, directing and acting in a stage version of the late, lamented short story writer Raymond Carver's What We Talk about When We Talk about Love.
This intense drama features four actors, all of whom have some pretty serious psychological and relationship problems.
As the two hours develop, the intense stage play suffers highs, lows and considerable angst as opening night approaches, while the protagonist's behaviour, which begins to embrace some mild superpowers, suggest that part of what we are watching might either be drawn from his fantasies or an extended dream/nightmare.
In the best spirit of Hollywood adventure movies but not necessarily the kind of dirty realism for which Raymond Carver was renowned, the film ends with high drama and a literally uplifting closure.
Alongside Keaton in a strong cast, Edward Norton portrays free spirit Mike Shiner, a man who literally tries to rape his partner on the stage, while Naomi Watts embodies the excitement of making a Broadway debut in the latter role.
Thomson's co-star in the play is English actress Andrea Riseborough, who gives Laura just the right degree of tired scepticism.
The eccentric behaviour stretches down a generation to Birdman's kooky daughter Sam played by Emma Stone. It is also seemingly touches pretty much everybody else with whom he comes into contact, giving Zach Galifianakis the opportunity to deliver a nice cameo as stressed-out lawyer and co-producer Jake.
With its strange vision of life both behind-the-scenes and around the environs of the St James Theatre on West 44th Street just off Times Square, this black comedy will have immediate appeal for theatre lovers everywhere.
Some of its excesses might stretch credibility a little but, overall, Birdman is definitely a film that readers should try out in the New Year.
Reviewer: Philip Fisher