Birdsong
Book by Sebastian Faulks, stage adaptation by Rachel Wagstaff
Birdsong Productions in association with The Original Theatre Company
Bristol Old Vic
–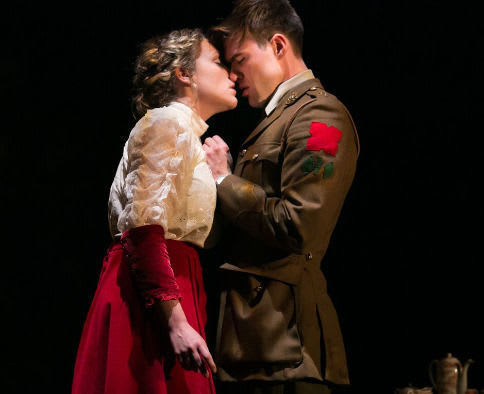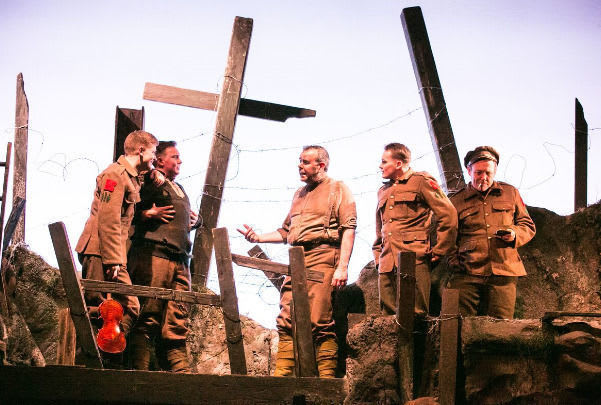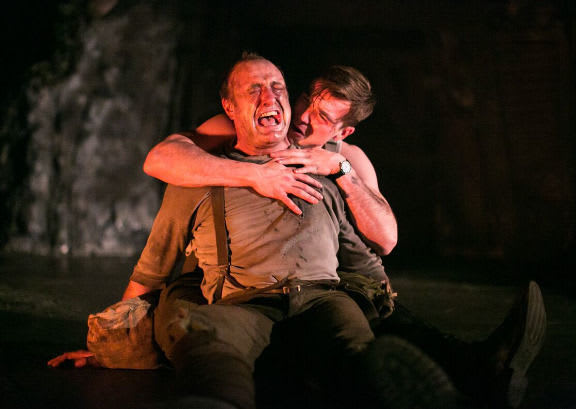 The First World War novel Birdsong—written by Sebastian Faulks in 1993—is composed of such densely descriptive prose and nuanced storytelling that it's difficult to imagine this complexity being transferred to the stage. And yet Rachel Wagstaff's adaptation, rewritten after an initial spell in the West End in 2010, poignantly captures the book's essence as it tours again to commemorate the centenary of the end of the Great War.
Rather than follow Faulks's chronology, Wagstaff begins in the mud and squalor of the trenches in 1916, just before the Battle of the Somme. Lieutenant Stephen Wraysford (Tom Kay) is already emotionally ravaged, hollowed out by the horrors he has endured. His pre-war love affair with Isabelle Azaire (Madeleine Knight), beautiful young wife of a cruel factory owner, is conveyed by a series of flashbacks.
Charlotte Peters, now replacing Alastair Whatley as director, navigates a fine line between past and present, delving into the turbulent unfurling of illicit passion. Though well crafted, there are so many transitions that, for a time, Wraysford's current gruesome predicament and the developing story of the soldiers in his charge are overlooked. Perhaps Kay's portrayal of a tortured and complicated man is emotionally repressed for too long, without even a flicker to convey the feeling beneath, but his transformation in the final scenes is compelling.
Knight's Isabelle convinces in her evolution from initial wariness of Wraysford's wooing to the giddiness of overwhelming love. Later, she embodies the suffering of those left behind; damaged and compromising as she must to survive, she retains a dignity and determination to follow her chosen path.
It would be impossible to recreate the whole of the novel and ridiculous even to try. Some aspects of the story seem too curtailed; Wraysford's encounter with a prostitute, though shocking, takes too little time to build. And layers have been lost, there's no direct link between events of the early 20th century and the present day, though there are hints.
Wraysford's life becomes unexpectedly intertwined with that of Sapper Jack Firebrace (Tim Treloar), an expert tunneller who in peacetime helped build the London Underground. Though working in conditions even more hellish than those of the trenches and denied leave to visit his desperately ill young son, Firebrace retains his humour and humanity. Treloar's portrayal brings real emotional heart and heft to Firebrace's close bond with fellow tunneller Arthur Shaw (Simon Lloyd), his care for others in his regiment and growing regard for his commanding officer.
Victoria Spearing's set evokes the nightmare with barbed wire entanglements towering above the confines of cramped tunnels below. It combines with plaintive violin and song and last letters home to loved ones, interspersed with the shocking staccato flashes and booms of exploding shells, to become a deeply affecting backdrop to the devastation being played out.
This stage adaptation of Birdsong brings a Journey's End sensibility to the meaninglessness of mass slaughter. As faith is lost, the final scenes trapped in the virtual darkness of the underground tunnels are almost unbearably moving; the suffering of millions condensed into the very personal tragedy of two wholly different men yoked together by fate.
Reviewer: Claire Hayes