Birmingham Royal Ballet Autumn Celebration: The Grand Tour / Faster / The Dream
Choreography by Joe Layton, David Bintley, Frederick Ashton
Birmingham Royal Ballet
Sadler's Wells
–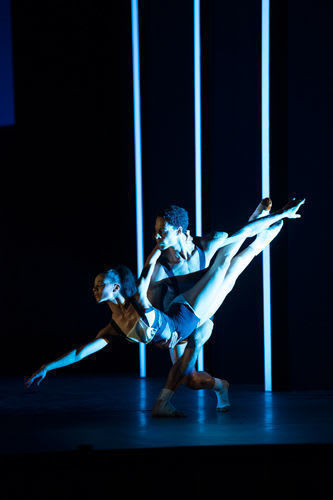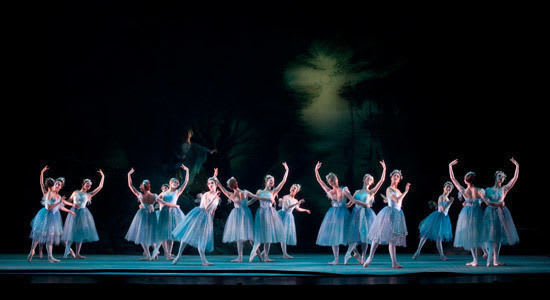 A very mixed triple bill this second offering to London audiences from Birmingham Royal Ballet, but an underlying link is perceptible: the triumvirate Ninette de Valois, Frederick Ashton, and Noël Coward, contemporaries three.
Noël Coward is celebrated in the opening Grand Tour, Frederick Ashton's Dream sends us home to bed—both cushion the central dynamic ballet, Faster, David Bintley's paean to the 2012 Olympics, in whose choreography the influence of his champion Ninette de Valois is still evident.
The Grand Tour, choreographed in 1971 by Broadway choreographer Joe Layton, demands strong characterisation from the dancers. Character shoes and caricature, a spinster American Lady on a trip of a lifetime encounters insouciant stars of stage and screen, and stowaways, on a glamorous 1920s-30s cross-Atlantic liner.
Broad impersonations abound, the best being of the Master himself and Gertrude Lawrence. Matthew Lawrence (departing BRB for Queensland Ballet in December), and Samara Downs make a marvellously poised couple with their interchangeable long cigarette holders, smoking throughout.
Douglas Fairbanks (Joseph Caley) strikes poses, George Bernard Shaw in ginger plus fours outfit (Valentin Olovyannikov), more corny than horny, is an old roué goosing vamp Theda Bara (Callie Roberts) and ringleted Mary Pickford (Arancha Baselga).
Tall elegant Tom Rogers is charming as the sympathetic chief steward, but this thirty-two-minute Broadway show ballet left me cold however much I tried to enter into the spirit of the dated straining wit and silly business. The send-up of lesbian couple Gertrude Stein (Rory Mackay) and Alice B Toklas (Kristen McGarrity) might not be to all tastes.
Last performed by Sadler's Wells Royal Ballet in 1980—kinder to have left The Grand Tour in mothballs. Even Coward's music, 'freely adapted and orchestrated' by Hershy Kay, felt dissipated.
From the soporific to the dynamic: David Bintley fills the stage with twenty-one high-wired dancers, proving that dancers are more than equal to sports people—but we knew that already—their marathon is every night.
Speed, power, and strength—and grace and skill and poise—are given expression by a cohort of very fit (in every sense) dancers. Basketball boys dodge and dribble, swimmers, athletes, wrestlers, gymnasts, fencers, girls in tight ponytails, and a lone archer in sexy black (Brandon Lawrence very good).
Opening and closing with a Leni Riefenstahl salute, sculpted bodies in sleek costumes (Becs Andrews outdoing Stella McCartney) show us how it's done in thirty-seven high-velocity minutes. Impressive timing, impressive stamina, grace under pressure.
Jenna Roberts, Feargus Campbell and William Bracewell rise to arduous choreography in their gymnastic trio—impossible lifts, balances, and placing. Tyrone Singleton and Céline Gittens perform an amazing contact sport duet. Injured she hangs off his body, but with tender support she recovers: a metaphor and an everyday drama for dance and sports worlds alike.
Synchronized symmetries and organized chaos, for a brief moment De Valois and Checkmate flashes across the brain. Challenge, compete, spar, there's no stopping, on and on in circles, on the spot. Peter Mumford's lighting heightens the adversarial drama and defines the space, but it is Australian composer Matthew Hindson's music that drives the dancers on.
Faster, inspired by the Olympic motto 'Faster, Higher, Stronger', is given great sound, jazzy, modern, Stravinskian in its crescendoing rite of passage finale for the epic marathon. Dancers race against time in frantic crisscrossing patterns, until the moment of triumph. Bintley, being Bintley, can't resist a tiny down-to-earth comic touch amongst these titans—a marathon walker in headband and baggy vest and shorts wiggling across the stage.
Frederick Ashton's 1964 The Dream has plenty of delicious comic touches: not least Bottom's dance on pointes, the Victorian mortals' love tangle, and the mischief-making Puck. Tzu-Chao Chou's Puck energizes proceedings whenever he is on the stage with his ballon, scissor leaps, fluttering fleet feet, and cheeky face. His nonchalant shrug closes the fifty-five minutes long dream.
Natasha Oughtred is an enchanting Titania, Matthew Lawrence and Brando Lawrence are in fine form as Demetrius and Lysander, and Callie Roberts and Ambra Vallo perfectly in character as Hermia and Helena. Ashton's delicate craft, musicality and humour, Mendelssohn's music, arranged by John Lanchbery, and John B Read's lighting transport to a magical world, the dream of many a young girl with ballet aspirations, just like the sweet young girl in the seat next to mine.
Reviewer: Vera Liber