Birthday
Joe Penhall
Royal Court Theatre Downstairs
–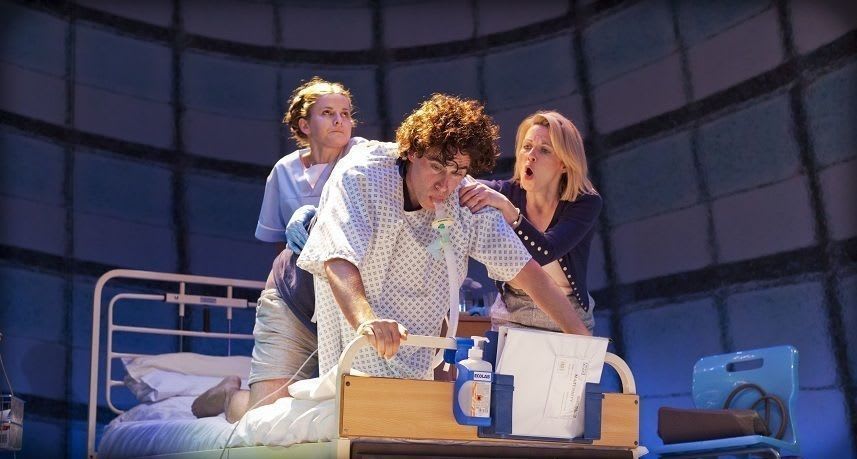 In Birthday, Joe Penhall attempts to do the same for the NHS's maternity provision as he did for its psychiatric services in his best play to date, Blue / Orange.
Childbearing is typically the stuff of TV drama rather than stage plays. That might be because it can be difficult to recreate the pleasure and pain of impending motherhood before a live audience without introducing the kind of graphic details that could induce mass fainting.
Joe Penhall has built his reputation on confounding expectations by exploring subjects from unusual perspectives. He certainly lives up to that reputation on this occasion, which is the main selling point for a piece, like Blue / Orange, directed by Roger Michell.
The initial setup sounds pretty commonplace. Green Wing's Stephen Mangan as Ed and Lisa Dillon playing her namesake Lisa are a typical couple in their 30s booking into hospital for the birth of their second child. Highly intelligent and clearly well-to-do, they relish the prospect of welcoming a little girl to complete a nuclear family with two-year-old Charlie.
For 90 minutes, the audience has an opportunity to witness the trials and tribulations of childbirth and also ponder on the limitations of a health service that is clearly underfunded. This would be a fairly ordinary comedy drama but for one novel fact that transforms evening.
Rather than Lisa, it is Ed who is pregnant since his wife was so badly knocked about last time around and in subsequent miscarriages that she can no longer have a child. This provides much rich entertainment, especially for female members of the audience.
They will clearly relish the chance to see a direct role reversal as the female breadwinner cossets and calms an increasingly panicky cry-baby of a pregnant mother / father to be. Both of the actors play their parts to the full, guaranteeing a good deal of light humour before the contractions begin to set in.
They are assisted through this phase by Llewella Gideon, who gives a finely judged performance as the uncaring midwife clearly overburdened during a double shift.
When things begin to get serious, a medico finally shows up although Louise Brealey's Natasha does not necessarily inspire confidence because while she might be deeply experienced the exhausted doctor could pass herself off as a teenager.
The comedy eventually gives way to something more serious, as complications make both the birthing experience and the ensuing hours nerve wracking for the new parents.
Stress begins to take over after it is revealed that their baby daughter might have a hospital-generated infection with whatever consequences that might lead to. This really brings the best out in Mangan and Mesdames Dillon and Brealey as well as giving a gentle comedy rather greater depth.
By the end of the evening, viewers will have a very good impression of the strengths and weaknesses of NHS maternity hospitals today and as a result, they could well have different views about how they would like to undergo their own (presumably female only) pregnancies in future.
While Birthday is undoubtedly good entertainment and very well performed, it lacks the incisive depth and analytical precision that distinguish the best of Joe Penhall's works.
Reviewer: Philip Fisher