The Birthday Party
Harold Pinter
Birmingham Rep
Malvern Theatres
(2005)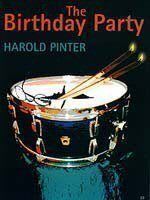 Harold is happy – no mean achievement, you might think. "I saw it (the play) last week and it's going to be terrific. It's just bloody good, well directed and it's an extremely good company. Also it fulfils what the play aimed to fulfil all those years ago. The play does stand up, I have to say."
The Master has spoken then; but is he right? Writers aren't necessarily always the best judge of adaptations of their own work - Pinter was reportedly not best pleased with Howard Barker's revival of another early classic, The Caretaker, three years ago in the West End. He, however, seemed to be in a minority of one; just about everyone else was blown away, not least by a stunning central performance by Michael Gambon, certainly one of the best I've ever seen.
There isn't the same kind of pyrotechnic display in this production, directed by Lindsay Posner, but it is, as Pinter says, "bloody good" with two excellent performances which justify the price of admission alone. The first is by Eileen Atkins as Meg, the landlady of a down-at-heel seaside boarding house; the other is by Henry Goodman as the suave but menacing Goldberg whose arrival, accompanied by the dour McCann, brings disaster to Stanley, sole lodger and celebrant.
My first impression was that the text seemed to be taken at a lick. Pinter is, of course, renowned for his pauses and the musical quality of his writing which demands an attention to its rhythms. The second is that the set, by Peter McKintosh, period 1950s, but open to the rafters, is too roomy, something that hampered the last major UK revival at The Crucible a few years back.
Any doubts, however, are swiftly dispelled by the appearance of Eileen Atkins who is superb. Hers is a very controlled, unstarry performance which brings out beautifully the confusion of feelings which inform Meg's hanging on Stanley – half maternal solicitude, half grotesque coquetry. My feelings about Paul Ritter as Stanley were more ambivalent. I don't think he realised the depth of end-of-his-tether anger and frustration which the character demands.
There are no reservations, however, about Goodman who in a slight reprise of his award-winning Merchant of Venice obliterates all memories, or nearly, of his dire Richard III a couple of years back. He modulates effortlessly between politesse and thuggery, an iron fist in a velvet glove, mining, apparently effortlessly, Pinter's comedy and musicality, qualities not always appreciated. The second half in fact was noticeable for the sheer laughter, although as Pinter himself remarked, his writing is funny up to a certain point and then it isn't – and that's the point.
Sinead Matthews as Lulu lends good support as does, and here I must pause, if not Pinteresquely, then at least momentarily: the programme reports that the part of Petey, Meg's long-suffering husband, is played by Geoffrey Hutchings, but it didn't, from where I was, look or sound like him, although there was no notice to the contrary, that I could find – I just don't know.
This, however, I am sure of: this is a Birthday Party to celebrate, well worth catching in London.
Philip Fisher reviewed the London transfer at the Duchess Theatre.
Reviewer: Pete Wood