The Birthday Party
Harold Pinter
Birmingham Rep
Duchess Theatre
(2005)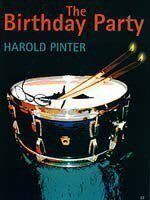 Nothing could be further from the reality of The Birthday Party than the idyll conjured up by the safety curtain that welcomes the audience to the intimate Duchess Theatre. It has been decorated by designer Peter McKintosh with a pair of striped deckchairs on a pebbly beach.
This soon gives way to the claustrophobic, grubby lounge of a bed-and-breakfast establishment that, like the terrors that plague Paul Ritter as the protagonist Stanley, could have been drawn from the terrifying novels of Franz Kafka.
The twitchy Stanley is an out of work pianist who has spent the last year as a resident at the less than homely hotel run by Eileen Atkins' Meg, with little assistance from her grim deckchair attendant husband Petey, played by Geoffrey Hutchings.
Stanley, toes emerging from holed socks, appears to be on the brink of breakdown as the breakfast ritual is spiced up by the attentions of his overly-friendly landlady. She seems to have a mental age somewhere in adolescence, which gives her an unbalanced but generally sunny view of life.
The familiar air of domesticity is overshadowed by the arrival of a slickly-dressed pair, Henry Goodman's typically Jewish Goldberg and McCann his equally characteristic Irish "friend" played by Finbar Lynch. The former is charming and the latter, complete with mutton chop whiskers and the demeanour of an undertaker, threatening.
While Meg is delighted to have new guests after a fallow year, Stanley has an irrational panic attack suggesting that he may have his own secret history. This might help to explain his seaside jaunt and reluctance to go outside.
Stanley's experience at his ensuing birthday party, celebrated on the wrong day, has all of the qualities of a nightmare and leaves him drooling and gibbering as if the lobotomised. There is indeed a question as to whether the whole play takes place inside Stanley's head rather than outside it, suggested by a question during his interrogation, "What makes you think you exist?"
Pinter's writing and use of language loses none of its freshness 47 years on, although some of the cultural references have now become part of history. Thanks to the play's careful construction, Lindsay Posner's thoughtful direction and some tremendous acting from every member of the cast (which also includes Sinead Matthews as the innocent Lulu), this production is packed with both humour and Pinter's trademark aura of threat.
The two-and-a-quarter hours flies by as one is caught up by the comic oddity of the seedy long-term resident of the simple seaside landlady. Subsequently this is left far behind by the horrors of unexplained torture, made far worse by what should be a joyful event and happy setting.
Except for those who have an aversion to the works of Pinter, this vibrant new production is strongly recommended.
Pete Wood reviewed the pre-West End tour at Malvern.
Reviewer: Philip Fisher